Storytelling and mischief on offer as part of the City Festival
Published on Tuesday, August 21, 2018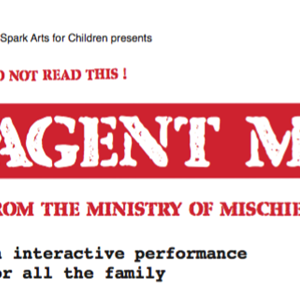 STORYTELLING and mischief will be on offer on Jubilee Square tomorrow (22 Aug) as part of the City Festival.
The city council's Bookbus will be parked up on the square from 11am-3pm and fun, free activities will be provided by The Spark Arts for Children, encouraging families to get involved with Mischief Makers, the summer reading challenge currently being promoted by Leicester Libraries.
Mischief Makers features characters including Dennis the Menace, Minnie the Minx and Bananaman, and rewards children and young people for reading six books over the long summer holidays. Everyone who completes the challenge gets a medal and a certificate.
On Jubilee Square, Agent M will be on hand to cause a bit of mischief. Agent M is a professor of fun and all things ridiculous, and her mission is to measure and preserve good honest mischief and mayhem amongst the families in Leicester. Agent M will arrive with an official Ministry box containing experiments, pranks, tricks and shenanigans designed to reveal the inner mischief of children (and their adults).
Also on the square will be Dave 'Stickman' Higgins, bringing his 'giggles in the garden'. Aimed at children aged five and under, it's a chance to discover sounds, rhythms, actions and objects as participants build a story together.
There's also a Mischief Family Funday at the Central Library, in Bishop Street, tomorrow from 12-4pm, and a similar funday at Westcotes Library, in Narborough Road, from 12-4pm on Thursday 23 August.
On Saturday 25 August, staff from Leicester Libraries will also be on hand to provide storytelling as part of the Journeys Festival International, which celebrates creative talent from around the world and includes a colourful parade on Jubilee Square from 1pm.
All of these events are part of the wider City Festival, a 10-day celebration of the communities, art, heritage and people that make Leicester unique.
Highlights of the City Festival include a city music stage in Humberstone Gate over the bank holiday weekend, plus the ever-popular Old Town Festival on Bank Holiday Monday, which centres around Jubilee Square and features historically-themed fun activities and workshops.
To find out more about the City Festival, see www.visitleicester.info
To find out more about events and activities at Leicester libraries, visit www.leicester.gov.uk/libraries
(ends)