Christmas park and ride services over festive period
Published on Monday, December 17, 2018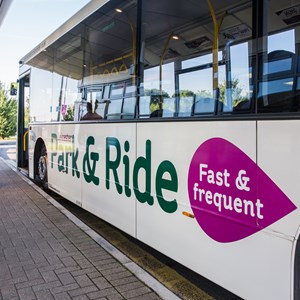 EXTENDED Park and Ride services are operating in and out of Leicester over the Christmas period to make it easier than ever to visit the city.
The three Park and Ride routes serving the city – from Meynell's Gorse, Birstall and Enderby – are all offering extended services to help Christmas shoppers throughout December.
Monday to Saturday services are continuing to run between one and three hours later than normal, allowing shoppers to make the most of the city's late-night shopping, the Wheel of Light ferris wheel, the Jubilee Square ice rink and the Christmas In The Gardens spectacular light installation at Cathedral Gardens.
The services from Enderby and Meynell's Gorse drop off at St Nicholas Circle beside the Wheel of Light and ice rink. The Birstall service stops at Causeway Lane – a five-minute walk from Jubilee Square.
On Saturdays, the last Park and Ride buses leave from St Nicholas Circle to both Meynells Gorse and Enderby at 8.15pm, while the Birstall route leaves at 8.19pm from Causeway Lane.
The last services on Sunday leave around 5.30pm on each route.
Then, from Monday, December 17, to Friday, December 21, the last buses home will be 10.15pm from St Nicholas Circle for both Meynell's Gorse and Enderby, while the final Birstall service departs from Causeway Lane at 10.19pm.
The Birstall service also departs from the Haymarket Bus Station a few minutes earlier.
Services run every 15 minutes until 7pm, after which they run every 30 to 45 minutes until the last service home. Passengers should check the timetable for exact details.
It means that Park and Ride services are operating every day in December except Christmas Day itself.
The extended Monday to Saturday Park and Ride service is being funded by BID Leicester, to encourage people into the city this Christmas. Details are available at www.bidleicester.co.uk
The core Park and Ride Sunday services are operated jointly by Leicester City Council and Leicestershire County Council.
Deputy City Mayor Cllr Adam Clarke said: "Christmas festivities, shopping and seasonal attractions are well underway in the city centre, and the extended Park and Ride services are the ideal way to enable people to travel into the city centre without worrying about parking.
"If you've never used our Park and Ride services before, this is a great time to try them for the first time."
Details of the December Park and Ride services are available at: http://www.choosehowyoumove.co.uk/parkandride/
Full details of all Christmas events in Leicester are available at www.visitleicester.info
(Ends)