Brahmpreet to speak at Strong Cities Summit in Melbourne
Published on Monday, July 9, 2018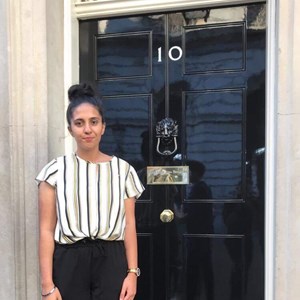 A YOUNG person from Leicester who has been involved in projects to tackle extremism has been invited to Australia to talk about her experiences.
Seventeen-year-old Brahmpreet Kaur Gulati, from Thurnby Lodge in Leicester, will attend the Strong Cities Network – a global summit on anti-extremism – in Melbourne from 10-12 July.
Brahmpreet has been invited after her work as a young consultant with Leicester City Council's youth service. She was involved in the 'Reclaim Radical' project, a series of films spelling out the difference between 'radical' and 'radicalised'.
The films were commissioned by the local Prevent programme and used by professionals who work with young people. They starred local young people, who were also involved in scriptwriting and production.
Reclaim Radical was so successful, it was singled out for praise at a meeting of Commonwealth heads.
Brahmpreet said: "This is a massive opportunity not just for me, but for youth participation in Leicester. To receive international recognition is beyond anything we could've hoped for. I'm so proud of being part of Leicester city's participation work, and I'm looking forward to making new networks and putting Leicester on the map."
At the summit, Brahmpreet will give a presentation about Reclaim Radical, before hosting a question and answer session.
Launched at the United Nations in September 2015, the Strong Cities Network (SCN) is a global network of mayors, policy-makers and practitioners united in building social cohesion to counter violent extremism. It includes more than 120 cities and looks to build links between different nations and communities to tackle and prevent radicalism. More than 250 delegates are expected to attend the Melbourne event.
Cllr Sarah Russell, assistant city mayor for children, young people and schools, said: "What a fantastic opportunity this is for Brahmpreet, and thoroughly well deserved after all her hard work on the Reclaim Radical project.
"I know that Brahmpreet will be an excellent ambassador for Leicester, showing a worldwide audience how involving young people in projects like this one is absolutely vital to ensure they have the desired impact.
"I'm also very proud of our youth service for working with young people like Brahmpreet to bring these important messages to the forefront of debate and coming up with innovative ways of communicating them."
More information about the Strong Cities Network summit can be found at: http://scnmelbourne2018.org
The Reclaim Radical films can be found at www.leicesterprevent.co.uk/reclaim-radical/
(ends)