Festival of Chariots takes to city centre this weekend
Published on Tuesday, July 10, 2018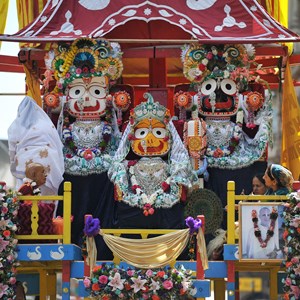 A HUGE decorated chariot will make its way through the city centre this weekend as part of colourful celebrations of the Hare Krishna festival of Rathayatra.
The event, on Sunday, July 15, will see a procession travelling from the Hare Krishna Temple in Granby Street to Cossington Park in Belgrave.
Celebrations begin with a ceremony at the temple at 9.30am, after which the procession leaves the temple at about 11.30am, and will travel along Gallowtree Gate, Haymarket, Belgrave Gate and Belgrave Road to Cossington Park for about 2.30pm.
There will be road closures along the route, and parking will be suspended.
Rathayatra is one of the major events for followers of the Hare Krishna faith, and the event is being organised by the International Society for Krisha Consciousness (ISKCON), which has been present in the city since the 1970s.
The events at Cossington Park will feature live entertainment, dancing, music, meditation and exhibitions, as well as serving vegetarian food.
(Ends)