King Street shortlisted for national Healthy Street award
Published on Tuesday, October 2, 2018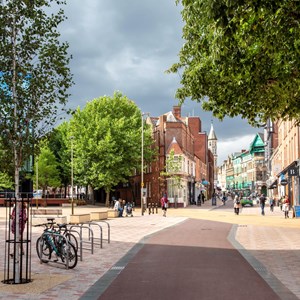 A SCHEME to transform part of King Street in Leicester City Centre has been shortlisted for a national 'Healthy Streets' award.
The £1million Leicester City Council project was designed to complement a new public piazza created as part of the redevelopment of the site of the former council offices at New Walk Centre.
Work was completed in July this year. The street now features wider pavements, a safer cycling route, new benches, more space for cafes and restaurant to use for outdoor seating, and attractive landscaping to make the most of the mature trees in the area.
The completed scheme is one of six to be shortlisted for the 'Healthy Street of the Year' award. It is the only project outside of London to make the shortlist in this category.
The Healthy Streets Awards are organised by the City Of London Corporation and Landor Links. They aim to reward excellence in in the planning and delivery of healthy street improvements in towns and cities across the UK.
City Mayor Peter Soulsby said: "King Street has been completely transformed in recent months.
"Along with new homes, much-needed office space and the return of a major local employer to the city centre, our revamp of King Street itself has helped create a more welcoming and attractive open space for people to enjoy.
"Healthy Streets is an approach that puts people at the heart of future transport planning, and that is something that was very much at the heart of what we aim to achieve with projects like the King Street revamp and the wider Connecting Leicester programme.
"It's a credit to the project team that King Street has been shortlisted for this award."
The King Street revamp is part of Connecting Leicester – a major programme of works that is improving routes through the city centre for pedestrians and cyclists, while making it attractive to visitors, investors and developers.
The winners of the Healthy Streets Awards 2018 are due to be announced at a ceremony at the Guildhall, London, on Friday, 12 October.