More than 28 acres of city land transformed into affordable homes
Published on Thursday, September 27, 2018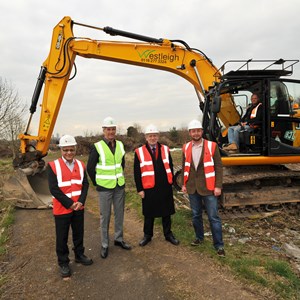 MORE than 28 acres (11 hectares) of unused land in the city has been transformed into nearly 300 new-build affordable homes.
The homes have been created thanks to a council policy and Government rules that allow the transfer of land for a nominal fee of £1, in return for a housing association and developer building social housing on the site and giving the council the right to nominate people from its housing register to live in the rented properties.
The resulting homes are managed by a housing association. A few of the homes have been sold under the Newbuild Homebuy shared ownership scheme, which allows people to buy a share in their home and then pay rent on the rest.
The cost to build these homes is estimated at £102,000 per property, which means if Leicester City Council had built these homes itself, it would have cost the council an estimated £29million.
And a deal which has just been signed by the city mayor will see up to 54 further new homes built on a former schools' site in Eyres Monsell, with land also made available in another part of the city for a potential free school.
City mayor Peter Soulsby said: "These transfers of our land at a nominal fee have been an excellent way of adding to our city's affordable housing stock. With around 6,000 people on our housing register, these homes are very much needed, and help to ensure a decent place to live for some of our most vulnerable citizens.
"They have been built on council land that is no longer needed for other purposes, so it's a tremendously effective way of bringing land back into use, bringing investment into the city and ensuring we get homes built that would have cost us £29million to build ourselves.
"This is just one of the methods we have been using to ensure more affordable housing is built in Leicester. We have also sold land for market value – for example, at St Mary's allotments, where the developer and their housing association partner are building 70 per cent of the 87 new homes on the site as affordable housing – far in excess of the 20 per cent planning rules say they must build.
"We have also just announced that we will also be building council houses ourselves again, launching our own housing company, Housing Leicester Limited. It will start building new council homes across the city from spring 2019."
Government rules mean land can only be transferred for under its market value when there is a clear community benefit to doing so. Often, the buyer has to meet other local criteria too, such as guaranteeing to build on the land by a certain date.
Developments that have been built in Leicester under this £1 asset transfer scheme include 58 homes at Manor Farm, in Humberstone, where accommodation includes 21 supported housing units for older people, plus some wheelchair-accessible properties.
And at Heathcott Road, close to Saffron Lane, 68 homes have been built to Passivhaus standards, meaning they are low-energy and built to extremely high environmental standards. The site is next to a permaculture farm and allotments, which provide education on food growing, cooking and healthy eating.
The development is one of Europe's largest Passivhaus affordable housing schemes, winner of two regional industry awards and was the national Shift Awards winner of the Best New Build Project category in 2017.
(ends)