Daniel Lambert welcomes you to Open Streets event
Published on Thursday, July 25, 2019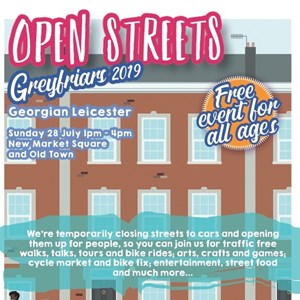 DANIEL Lambert will be presiding over this month's Open Streets festival, as the historic Greyfriars area of the city centre will be closed to traffic and opened up for people to enjoy.
To announce this month's theme for Open Streets – Georgian Leicester - a life-size model of 50-stone Daniel will welcome visitors to the event, on Sunday 28 July. Daniel Lambert is a famous Leicester Georgian and one of the city's most cherished icons.
The Old Town area of Leicester features many notable Georgian buildings, including the City Rooms, 17 Friar Lane, 21 St Martins and most of the buildings along New Street.
From 1-4pm, Friar Lane, Millstone Lane, new Market Square and the surrounding streets will feature a range of fun, free activities for people of all ages to enjoy.
The new Market Square is the focal point for the event, where visitors can take a free rickshaw ride, watch graffiti being created with a Georgian theme and watch a blacksmith at work – there's even a chance to have a go at forging your own metal and creating a keyring to take home.
Experience Georgian Leicester with a walk and talk starting from the square, led by an architectural historian – or join a tour of the Greyfriars conservation area, to learn more about its fascinating history and the townscape heritage initiative that is helping to conserve it.
Over at the King Richard III Visitor Centre, children can have a go at calligraphy – and there's a talk about 18th-century crime and punishment, hosted by the Georgian Bloggers.
St Martins will host a sensory play area for babies and toddlers, and children can work with local architects to construct their own model building. There's also a comedy tour of the Greyfriars area, and an exhibition by the local Focus charity.
In Hotel Street, meet the re-enactors who will be bringing the American War of Independence dramatically to life, and create your own word art using stamps inspired by the historic buildings in the area. There's also the chance to learn more about 18th-century gin drinking from a local expert, with 45 West gin bar offering 10% off for those attending the talk.
Learn how to play bicycle polo and take part in a match on Peacock Lane, or watch demonstrations of Georgian pastimes on Grey Friars. Or find out what the Georgians did for us with a talk at Newarke Houses Museum.
Deputy city mayor Cllr Adam Clarke, who leads on environment and transportation, said: "This month's Open Streets event will celebrate Leicester's fascinating Georgian heritage. It's a chance for us to showcase the work we've done to conserve and highlight our Georgian past through our townscape initiative – and it provides an opportunity for people to use the streets in a different way, as a place for meeting and socialising, free from traffic.
"As well as being a great opportunity to experience and enjoy  this part of the city centre in a car-free and people-friendly environment, events like Open Streets give us the chance to think about how we can get around our city in ways that are better for our health and more sustainable for the environment, especially in light of the climate emergency and the challenges we face around air quality."
Open Streets is one of a number of actions being carried out by the city council to help reduce vehicle emissions and tackle the climate crisis.
Experts now predict that unless drastic action is taken, we are less than 12 years away from global heating becoming irreversible, with catastrophic results. In response, Leicester City Council declared a climate emergency in February 2019.
Local initiatives such as creating more cycle lanes in the city, improving bus services and promoting take-up of electric vehicles are already under way.
The council also plans to consult on charging employers with parking spaces and investing this income in schemes to further reduce transport emissions.
With Government support, the city council could be on track to be carbon neutral before 2030.
Open Streets is funded by the National Lottery Heritage Fund and is linked to the Greyfriars Townscape Heritage Initiative – more than £10m of street scene improvements funded by the city council, property owners and the National Lottery Heritage Fund.
About The National Lottery Heritage Fund
Using money raised by the National Lottery, we inspire, lead and resource the UK's heritage to create positive and lasting change for people and communities, now and in the future. www.HeritageFund.org.uk.
Follow @HeritageFundUK on Twitter, Facebook and Instagram and use #NationalLotteryHeritageFund