Christmas ice rink gets ready for Thursday's opening
Published on Monday, December 2, 2019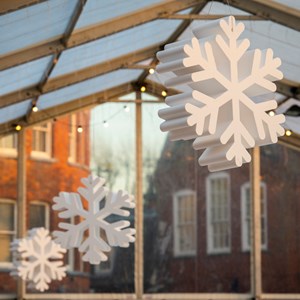 WITH just days to go before Leicester's real ice rink opens in Jubilee Square, people can now start planning their visits to the city's standout Christmas attraction.
Opening at 5pm on Thursday (5 December), the ice rink is set to be even better than in 2018, with a new outdoor section that will give people the chance to skate beneath the stars, themed sessions that all the family will enjoy, and designated quiet sessions for children and adults with conditions such as autism or additional sensory needs.
Anyone who's quick off the mark can pick up a bargain on the rink's two preview days – Thursday 5 and Friday 6 December - when skating costs a flat rate of just £5 per person.
City Mayor Peter Soulsby said: "At 40m x 17m, our 2019 rink will be just as big as last year's, but this year we've added an outdoor section, which we hope will give people something new to enjoy.
"If you're coming into Leicester for shopping, a night out, or just to enjoy our festive lights, I hope you'll find time to have a spin on our ice rink and discover all that the city has to offer this Christmas."
The city council's contractors 11th Hour will start filling the ice rink tonight (Monday), freezing each layer before adding more water. It will take around three days to create and freeze the 6-inch-thick skating surface.
Festivals and events manager Maggie Shutt said: "Our ice rink is rapidly taking shape, and it's looking better than ever!
"We look forward to opening the doors on Thursday and giving everyone a warm welcome, whether it's your first time on ice or you're an experienced skater."
Tickets for the preview dates on Thursday and Friday (5 and 6 December) are still available at just £5.
Standard rates for adult skaters are £10, with tickets for children (aged 16 and under), senior citizens and students priced at £8.50.
Discounts are available for groups of four or more people, so a family of four will be able to skate for £34.
Anyone skating between 11am and 4pm on Mondays to Fridays from 9-20 December – the off-peak period before the schools break up for Christmas – can save £1 on standard prices.
Skating aids for young children – in the shape of penguins and seals – will be available again and can be booked in advance online or hired on the day at the ice rink, subject to availability.
Wheelchair users can join in the fun on the ice at any session at any time.
Up to 250 people will be able to take to the ice at any one time, although capacity will be restricted to 100 skaters for the designated quiet sessions for people with autism or other special needs.  
Leicester's Jubilee Square ice rink will be open from 5pm on Thursday (5 December) until Sunday 5 January 2020.
It will be open every day, apart from Christmas Day and New Year's Day.
Skating starts at 10am each day (11am on Mondays to Fridays until 20 December), with the last session of the day starting at 8pm.
People can book their 45-minute sessions on the real ice rink via Leicester's dedicated Christmas website, www.christmasinleicester.co.uk, from the Visit Leicester information centre on Gallowtree Gate or from the ice rink ticket office at BBC Radio Leicester – which opens on Thursday.
The real ice rink is at the heart of Leicester's Christmas events, with the giant big wheel – the Wheel of Light – joining it in Jubilee Square once again.
Detail of all events taking place in Leicester this Christmas are available here
Summary of events in Leicester this Christmas:
The Wheel of Light. Jubilee Square
Enjoy a bird's eye view of Leicester's Christmas lights from our 110-ft Ferris wheel.
Daily (closed Christmas Day and New Year's Day) until 6 January.
Standard ticket £5; children under 1.4m £4; family ticket £15.
11am-9pm Mon-Thurs; 11am-11pm Fri-Sat; 12noon-9pm Sun.
Traditional nativity scene and Woodland Tales. Town Hall Square
See the story of Christmas and an animated tableau scene under the festive lights in Leicester's historic Town Hall Square
Funfair. Humberstone Gate
Family-friendly fairground rides in the heart of the city centre until 6 January
From 5 December: Christmas Ice Rink. Jubilee Square
Skate on our spectacular real ice rink, whatever the weather!
Tickets from christmasinleicester.co.uk, Visit Leicester on Gallowtree Gate and the Jubilee Square box office from Thursday (5 Dec). £10/£8.50 (£9/£7.50 at off-peak times). Skate for a fiver on our preview days (5-6 December)
From 10am daily (11am on Mondays to Fridays until 20 December) until 5 January. Closed Christmas Day and New Year's Day.
From 7 December: Santa in the Square. New Market Square
Visit Santa in his snow-covered grotto, every day until 22 December. Free admission – and free small gift for every child.
Monday-Friday: 11am-6pm; Saturday: 11am-6pm; Sunday: 11am-4pm
8 December: Christmas Movie Day at the Guildhall
Enjoy some of the best Christmas films in front of an open fire in the beautiful Guildhall.
The Muppet Christmas Carol (10am; 12.30pm); The Wizard of Oz (3pm); It's a Wonderful Life (6pm)
Admission £5. Tel: 0116 253 2569.
8 December: Christmas Toys & Steam Day. Abbey Pumping Station
Start the festive season with a visit to the Abbey Pumping Station Museum and a chance
to see the Gimsom beam engines in steam!
Admission £3.50 (£2.50 concessions). Tel: 0116 299 5111.
12noon – 5pm
From 12 December: LightWeight. New Market Square
Strike a pose at LightWeight, a giant shimmering globe featuring live animation, every day until 21 December. Presented by BidLeicester.
5pm-10pm
Now open: The Jägerhaus. St Peter's Square, Highcross
Enjoy festive food and drink at Leicester's German-themed outside bar.
Open daily from 10am-9pm until 28 December
Christmas gift ideas at Visit Leicester on Gallowtree Gate:
Book your tickets for Leicester's real ice rink. Choose from a wide range of Leicester-themed gifts, including gorgeous hand-painted baubles and Christmas cards.
Christmas shows in Leicester include:
23 November – 11 January: West Side Story. Curve
9-31 December: Giraffes Can't Dance. Curve
9-26 December: Beauty and the Beast. Peepul Enterprise
12 December: Sleeping Beauty. The Y Theatre
13 December – 5 January: Robin Hood. Little Theatre
14 December – 5 January: Aladdin. De Montfort Hall
14 December: The Wizard of Oz. The Y Theatre
17 December: Christmas Cabaret. The Y Theatre
21 December: Jack's Giant Adventure. The Y Theatre