Leicester Marathon cancelled this weekend
Published on Thursday, October 3, 2019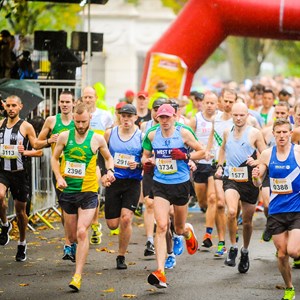 RACE organisers have announced the cancellation of this year's Leicester Marathon after heavy rainfall left sections of the race route underwater and impassable.
More than three thousand runners were due to take to Leicester's streets this weekend for the annual Leicester Marathon, Half Marathon and Relay Challenge races, passing along streets in the city and the county on Sunday, October 6.
However, race officials have decided that due to extreme flooding in both Watermead Park and numerous villages on the marathon route, the events will be cancelled.
The amount of rain that has fallen in the past three days has led to various parts of the route becoming completely unusable.
The marathon organisers said: "Flooding has occurred to such an extent that it is impossible to remove such an amount of water from the route. There is also more rain forecast over the next few days.
"The safety of our runners is paramount, and we have been unable to find a route that meets an acceptable standard.
"This is not a decision we have taken lightly and the organising committee, as well as our charity partner LOROS Hospice, who have been involved for almost 15 years, are devastated.
"Due to the need to re-arrange road closures and suppliers, notify residents, recruit volunteers and more, a postponement of the race is unfortunately, not feasible.
"We understand that you will all be disappointed, having no doubt trained hard and fundraised for some amazing charities."
Director of city highways at Leicester City Council, Martin Fletcher, added: "Unfortunately the extremely heavy rain earlier this week has left some areas of the course impassable, and despite working with the race organisers and the Environment Agency throughout the week, we've been unable to find a suitable, safe alternative route."
Organisers have offered participants a refund of their entry fees, but have asked runners to consider donating their entry fees to the race's charity partner LOROS, the Hospice for Leicester, Leicestershire and Rutland, which supports more than 2,500 terminally ill patients every year.
Runners who don't claim a refund of their entry fee will automatically see it donated to LOROS on their behalf.  
Further details from the race organisers are available at www.leicestermarathon.org.uk
(Ends)