School creates mindfulness garden
Published on Monday, October 28, 2019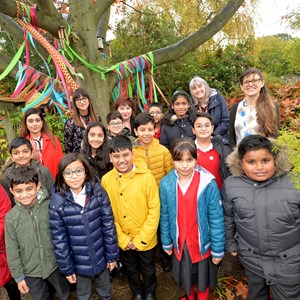 A SCHOOL has created a 'mindfulness garden', giving children a space where they can go to relax and feel calm.
Whitehall Primary School in Leicester has revamped an under-used part of the school grounds to create the garden, which will also be used by teachers as a learning resource.
The garden was designed by the school's Eco Warriors and a team of gardeners from the Leicestershire and Rutland Wildlife Trust. It includes a water feature, sensory shrubs and plants, a seating area and a rainbow-coloured crazy paving pathway, made using recycled coloured glass.
Brightly-coloured fabric strips have been placed around the seating area to create a curtain, and there is also a roof made from plastic sheeting, painted in a multi-coloured design. A local chainsaw artist has created three wooden sculptures for the garden, including a lion and an enchanted treehouse door.
Aneesa Adam, the school's environmental co-ordinator, said: "We wanted to create a special place that children can go to if needed.
"We all value children's wellbeing, and designing an area where children can go to reflect or meditate will help to reduce stress levels.
"The garden could be used as a meditating area, where we can put into practice the mindfulness and yoga techniques we have had training in. Teachers can also use the garden as inspiration for their work - for example, it could be a setting for a story."
Headteacher Anna Boychuk added: "We are so pleased with our new mindfulness garden and are so lucky to have such a tranquil place to go to. It is a wonderful place that will help to promote social and emotional resilience in our children and help with their wellbeing".
Assistant city mayor for education and housing, Cllr Elly Cutkelvin, said: "With often busy and sometimes chaotic lives, we can all benefit from a peaceful place to go to and reflect on our day. This garden provides the perfect environment for the children to do this and I am sure this will quickly become a real asset for the school.
"It is also very well evidenced that outdoor learning is really important in child learning and development.
"So much care and thought has gone into developing the garden and I congratulate everyone who has been a part of its creation."
(ends)