New funding builds on legacy of Centenary Cities
Published on Thursday, September 12, 2019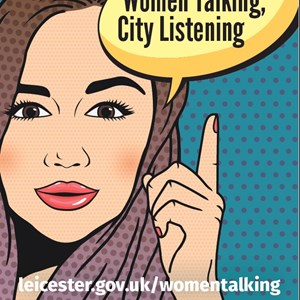 LEICESTER has been awarded a share of Government cash to follow on from its successful Centenary Cities project.
The £94,000 funding award, from the Government Equalities Office, will be used to engage with local women from diverse communities and backgrounds as part of a new project called Women Talking: City Listening.
The aim is to find out about barriers to achievement for women today, 100 years after the efforts of the women's suffrage movement.
The Centenary Cities project saw a number of displays, talks and awareness-raising events held in Leicester and included the unveiling of a new statue to Alice Hawkins, Leicester's Suffragette, in February 2018, plus a stunning large-scale projection event telling Alice's story in February 2019.
Across the country, seven local authorities ran Centenary Cities projects last year. Leicester is one of only three cities to successfully win funding for a follow-up project.
Cllr Rita Patel, assistant city mayor for equalities, said: "We're very much looking forward to starting a new project that will build on the legacy of Centenary Cities. A lot has changed in 100 years, but it would be naïve to think there are no barriers that remain to equality and opportunity for women.
"We'll use this funding to go out and talk to our communities and discuss what we can do to break down barriers and promote equality. We want to hear from all women, from all backgrounds – regardless of whether they are part of an existing women's group.
"As well as talking to individuals, we'll also be holding discussions with new and existing women's groups at local venues such as libraries and community centres."
Ideas for future activities could include – for example - setting up a regular support network for young women who want to start their own businesses in the city. Or further heritage events could be held to highlight women's role in the city's history – for example, looking at women's contribution to the war effort in the 1940s. Future projects, sessions or activities will depend on what women say they would like to see.
The Women Talking: City Listening project is being launched at the opening of a new exhibition at New Walk Museum, celebrating some of the most influential women of the 21st century.
The exhibition, called Anita Corbin: 100 First Women Portraits, features pictures of 100 female trailblazers taken by renowned portrait photographer Anita Corbin. It runs from 14 September until 27 October, and entry is free.
Groups and individuals who would like to be involved in the project can contact the team at womentalking@leicester.gov.uk
Once information and ideas have been gathered from women's groups, they will be used by the city council and the Government Equalities Office to inform future policy.
(ends)