Seminar showcases city's cultural successes and future plans
Published on Monday, February 3, 2020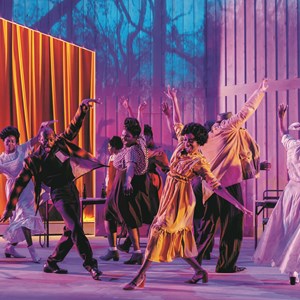 THE Chief Executive of Arts Council England, Darren Henley, is visiting Leicester this week to see and hear first hand about the city's cultural success stories and future ambitions.
Back in 2017 Leicester was unsuccessful in its bid to the Department for Culture, Media and Sport (DCMS) for the prestigious title of City of Culture. However, the seminar on Wednesday, February 5, at DMU's The Venue, will shine a light on the progress made since then and launch a brochure that showcases the world class art and culture offer now available in the city.
Leicester City Mayor Peter Soulsby will be speaking at the event, which also include contributions from cultural leaders, both universities, the BID director and creative businesses across the city. The seminar will also mark the start of concerted work to create a forward plan that will grow the broader creative economy of the city.
Peter Soulsby said: "We are extremely grateful for the support and help that Arts Council England has provided over the years, to help ensure we can continue to provide a world-class arts and culture programme.
"This seminar is an opportunity for us to look at the successes so far, and to look ahead. That future will include significant investment from the council to improve further our museum service including a state of the art visitor attraction at the iconic Jewry Wall site and new gallery space at New Walk Museum. "
Leicester is home both to established, landmark performance venues such as Curve, De Montfort Hall, Phoenix, O2 Academy, Haymarket and Attenborough Arts, as well as smaller venues with a thriving reputation, such as the Little Theatre, The Cookie, Firebug and Dryden Street Social.
Other long-standing organisations such as Fosse Arts, Aakash Odedra, Graffwerk, the Big Difference Company, Spark Arts, Soft Touch, Metro Boulot Dodo, Artreach and the city's museum service ensure that creative opportunities are available to people of all ages and communities across the city.
A packed programme of music festivals, street events and outdoor performances takes place throughout the year in public spaces, as well as the world-renowned annual Leicester Comedy Festival, the Let's Dance International Festival and many more.
In 2018, Leicester and Leicestershire were awarded £24.5milion of funding from Arts Council England, declaring 19 arts organisations (16 of which are in the city) as National Portfolio Organisations for the following four years.
This has formed the basis for a new prospectus and promotional campaign, launched in late 2019, designed to showcase Leicester as the place for experiencing world class culture and growing creative businesses.
Leicester City Council produced the 60-page colour prospectus, highlighting the breadth of the city's cultural offer through the work of some of its leading organisations.
It highlights their economic and social impact, both for communities in the city and across the country and overseas, and encourages new opportunities for collaboration.
An accompanying short film has also been produced and is being widely distributed through the digital channels of all the participating organisations, with the intention of attracting further investment and showcasing the city's thriving cultural scene to appeal to people to work and live in Leicester.
Darren Henley, Chief Executive for Arts Council England, added: "Leicester is an exciting and diverse city, with a great vision for the future, which is why we chose to announce our new portfolio here back in 2017.
"From light festivals and print workshops, to world class theatre and digital arts, we continue to be impressed with the city's innovative partnership working and I'm delighted to see the Cultural Prospectus highlighting the city's cultural offer to help even more people discover Leicester's amazing creative opportunities."
Those taking part at the seminar on February 5 also include:
Sarah Thomson, the director of social impact and engagement at De Montfort University
Mike Dalzell, Leicester City Council's director of tourism, culture and investment
Michaela Butter, Attenborough Arts Centre director
Simon Jenner, director of Leicester Business Improvement District (BID)
Sam Javid, executive producer at Artreach
De Montfort University's programme director of its Talent 25 project Kay Hardiman, and research fellow Dr Amar Daxini
Curve chief executive Chris Stafford
Adel Al-Salloum, director of Spark Arts
Sanjay Katwa, lead UX designer of un.limited
The event will also feature a range of live, creative performances including dance and spoken word.
For more details on art and culture in Leicester, visit: https://www.leicester.gov.uk/leisure-and-culture/arts-and-culture/
To view the city's cultural prospectus at the VisitLeicester website, visit: https://www.visitleicester.info/featured-articles/read/2019/12/world-class-arts-and-culture-b111
(Ends)
About Arts Council England:
Arts Council England is the national development body for arts and culture across England, working to enrich people's lives. We support a range of activities across the arts, museums and libraries – from theatre to visual art, reading to dance, music to literature, and crafts to collections. Great art and culture inspires us, brings us together and teaches us about ourselves and the world around us. In short, it makes life better. Between 2018 and 2022, we will invest £1.45 billion of public money from government and an estimated £860 million from the National Lottery to help create these experiences for as many people as possible across the country. www.artscouncil.org.uk