Design revealed for Alice Hawkins statue
Published on Thursday, August 24, 2017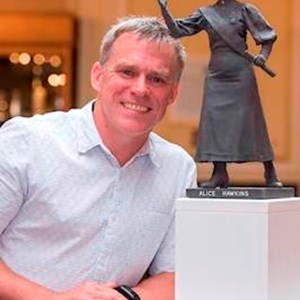 THE SCULPTOR commissioned to create a statue of the Leicester suffragette Alice Hawkins has revealed how the larger-than-life size sculpture will look.
Sean Hedges-Quinn's scale-model of the statue shows Alice as she might have looked at the height of the suffragette movement in 1912, when she would have regularly addressed the crowds at Leicester Market.
Wearing lace-up boots – probably made at the Equity shoe factory where she worked – a long skirt and a wide-brimmed hat, Alice is shown in a confident pose, with her right arm half-raised, a 'Votes for Women' sash across her chest and her rolled-up speech in her left hand.
She is also proudly wearing her Speaker's Ribbon, her Hunger Strike Medal and, at her throat, a Holloway Brooch – designed by Sylvia Pankhurst and awarded to members of the Women's Social and Political Union who had been imprisoned for the cause.
The 18-inch high model – known as a maquette – gives an accurate representation of how the actual bronze statue will look.
Sculptor Sean Hedges-Quinn – who has already created statues of Sir Alf Ramsey in Ipswich, Gracie Fields in Rochdale and Nat Lofthouse in Bolton – said: "I wanted to capture Alice's character and show the strong-willed and strong-minded woman she was.
"She believed passionately in her cause, and I was keen to show that spirit and determination.
"Facing up to the hecklers who surrounded her in the market place would have taken guts, so Alice was clearly no shrinking violet. That's why I've portrayed her in a confident stance, gesturing towards the crowds with defiance in her eyes.
"The maquette gives you a good idea of how the finished statue will look, although the real thing will be over 7ft tall and will look out over the market place from a 4ft-high plinth.
"I'm very proud to have this commission and hope that my statue will do justice to a truly remarkable woman."
A panel, comprising assistant city mayor for communities and equalities Cllr Manjula Sood, Elizabeth Wheelband of De Montfort University's Heritage Centre, Elaine Pantling – who will perform her show, 'Alice: In Her Shoes, at Leicester's Curve theatre in October – and public art expert Dindy Outen, selected Sean Hedges-Quinn from a shortlist of three sculptors.
Cllr Sood – who was Lord Mayor of Leicester in 2008 – said: "We were impressed by Sean's approach and look forward very much to seeing the finished statue.
"Alice Hawkins was the figurehead for the suffrage movement in Leicester and it's thanks to women like her that a woman like me had the opportunity to enter politics and become Lord Mayor.
"This statue will finally give this remarkable woman the recognition she deserves."
The project to commemorate the woman who fought so hard to secure electoral reform in Britain has been driven by Alice's great-grandson Peter Barratt and Leicester City Council's heritage champion Cllr Adam Clarke – but the project has been funded by local businessman Jamie Lewis, whose donation of £62,400 ensured the plans for the statue could go ahead.
Mr Lewis – the developer behind the city's CODE Student Accommodation – is the owner of the former Equity shoe factory on Western Road, where Alice spent many years working as a machinist and where she became an active trade unionist.
"We're very proud of our connections to Alice and we made sure that we kept those connections when we converted the building," he said.
 "Today, as you walk in through the factory gates – which are now the entrance to our student accommodation – you'll see large panels on either side that commemorate Alice's life in words and images, together with the history of the suffragette movement.
"I'm really pleased that we were able to support this project and will be following Sean's progress with great interest." 
It will take Sean around 12-14 weeks to sculpt the effigy of Alice Hawkins from clay. Once he's satisfied with his work, a wax copy will be made, which will contain a strong heat-resistant core held in place with bronze pins.
A ceramic shell will then be sprayed on to the wax statue. This will be placed in a furnace and heated until the wax melts, leaving a cavity in its place.
Molten bronze will then be poured into this cavity, with the bronze pins simply becoming part of the statue.
When the bronze cools and ultimately hardens, the ceramic shell that covers it will be chipped off to reveal the bronze statue beneath.
Known as the 'lost wax method', the process was perfected by the ancient Greeks and Romans. 
The statue of Alice will be installed in Leicester's new market square and is expected to be unveiled in February as part of celebrations to mark next year's centenary of the Representation of the People Act and Parliament's 'Vote 100' initiative.
The act began the reform of the electoral system in the UK and finally paved the way for equality for men and women at the ballot box.