Last chance to view Open art exhibition
Published on Tuesday, August 22, 2017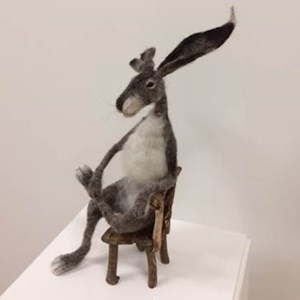 THERE are just a few days left to see the paintings, prints, drawings, photographs, sculptures and craft that feature in this year's Open art exhibition in Leicester.
The annual exhibition comes to an end on Saturday (26 August), but there's still time to enjoy the works of dozens of East Midlands-based artists.
Exhibits include Gemma Bee's felt sculpture, Hare on a Chair – which won the annual Trevor Thomas prize – and Bradley Phelps' The Winds of Change, which was this year's Attenborough Prize winner. 
In total, 223 artists took part in this year's Open, submitting more than 250 paintings, sculptures, drawings, photographs and other arts and crafts.
All the exhibits are on display at the Old Library Gallery in the Leicester Adult Education College on Belvoir Street until Saturday (26 August). Admission is free.