Leicester to get ice rink for Christmas
Published on Thursday, August 24, 2017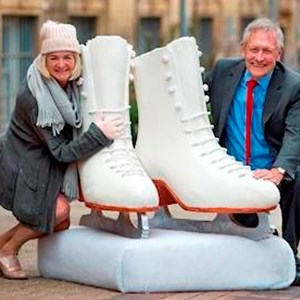 IT MAY only be August, but plans for Leicester's Christmas celebrations are already taking shape.
City Mayor Peter Soulsby has announced that a spectacular ice rink will be at the heart of the city council's Christmas programme this year, helping to create a winter wonderland in the city's Jubilee Square.
Featuring real ice and measuring around 35m x 15m, the ice rink will be open every day  – apart from Christmas Day – from Friday 8 December until Monday 8 January.
And, thanks to its roof, the ice rink will be open whatever the weather.

City Mayor Peter Soulsby said: "It's been nine years since Leicester had an ice rink at Christmas, so I think people will be as pleased as I am that we can finally get our skates on again.
"The Jubilee Square ice rink will be a huge attraction this Christmas – and it's just part of a packed programme of festive events that we'll be launching in the autumn."
Special ice-themed events, such as Penguin Parties and Snow Discos, will be organised to keep youngsters entertained, while businesses will be able to hire the rink for private functions or staff Christmas parties. 
Joining the ice rink in Jubilee Square will be the Wheel of Light – a giant ferris wheel – and there will also be mulled wine and roasted chestnuts to complete the festive atmosphere. 
More details about Leicester's programme of events for Christmas will be announced soon.