Young leader from Leicester on US trip in memory of Jo Cox
Published on Friday, August 18, 2017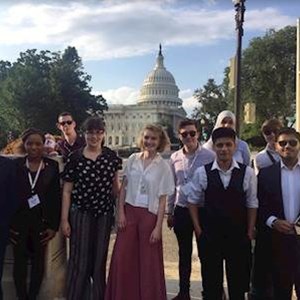 A YOUNG leader from Leicester has been selected to take part in a US exchange programme set up in memory of the MP Jo Cox.
Sagar Haria, age 19, from Belgrave, is a member of Leicester's Young People's Council (YPC) and the UK Youth Parliament. He is joining 20 other young people from across the country on the trip, which is organised and funded by the US Embassy in the UK and US Department of State.
The exchange takes place from 15-29 August, and includes visits to Washington DC, Philadelphia and New York. Its aim is to support young leaders who have shown tenacity in promoting social cohesion in their communities, because this was a topic championed by Jo Cox.
While on the exchange trip, young people will take part in panel discussions, workshops, site visits and cultural and social activities. They will share best practice, learn new community-building skills and find out more about creating social cohesion.  
Sagar said: "Through my work with the YPC, I was excited to be selected to be a part of this trip. As a part of the YPC, I have had the opportunity to represent the views of young people and take part in many campaigns and events.
"I look forward to sharing the work of the YPC with my counterparts in the US, as well as coming back and sharing what I have learnt in the States with other YPC members."
The trip is part of the US Embassy's Young Leaders scheme, which provides opportunities for young people who are interested in international relations, politics and government. An Embassy spokesperson said: "This exchange programme is in memory of Jo Cox who was a champion of social cohesion.  All of the participants are doing amazing things to bring their communities together and we hope that through this programme they will share best practices with young people in the US and continue to combat hate with hope in their communities."  
Cllr Sarah Russell, assistant city mayor for children, young people and schools, said: "What a great opportunity this is for Sagar. We look forward to hearing all about his trip and helping him and our other Young People's Council members to use what he learns to help promote further community cohesion here in Leicester." 
(ends)