Christmas jumpers welcome at Leicester's ice rink
Published on Friday, December 8, 2017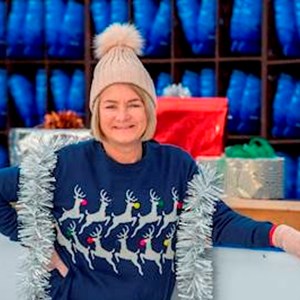 SKATERS are being invited to wrap up warm in their best – or worst – Christmas jumpers on Tuesday (12 December) for a special themed night at Leicester's ice rink, which opens to the public tomorrow (Saturday 9 December).
A voucher for a free skate is up for grabs for the person in the most impressive Christmas jumper at each of three sessions – 6pm, 7pm and 8pm – on Tuesday night.

Festivals and events manager Maggie Shutt said: "We want to see as many people as possible in Christmas jumpers on Tuesday night.

"I'm hoping to see Rudolph motifs with flashing red noses, Christmas trees that light up, and maybe Christmas puddings topped with flaming holly – the sort of jumpers that you can't wear every day but look brilliant at this time of year.
"We want everyone to have fun on our ice rink, and I hope that these theme nights – which we'll be running regularly throughout December – will help everyone to have a great time."
Other themed nights in December include Santa on Ice (Thursday 14 December), when skaters will be invited to wear a Santa hat and join Father Christmas for a spin around the ice, and a Christmas Disco (Tuesday 19 December), when a DJ will be playing everyone's favourite Christmas songs. There will also be a second chance to dig out those Christmas jumpers on Thursday 21 December.
All themed sessions are open to everyone – and dressing up is entirely optional.
A voucher for a free session at the Leicester ice rink will be awarded to the person wearing the best Christmas jumper at the 6pm, 7pm and 8pm sessions on Tuesday 12 December and Thursday 21 December.
Leicester's ice rink opens to the public tomorrow (Saturday) and will be open from 11am every day – apart from Christmas Day – until Monday 8 January. The last session starts at 8pm each day.
Tickets for the timed sessions can be bought in person at the Visit Leicester store on Gallowtree Gate, online at www.visitleicester.info, and – from tomorrow (Saturday 9 December) – from the ice rink box office at BBC Radio Leicester, just next to the ice rink.
Skate hire and a 45-minute session on the ice cost £8 for adults and £6.50 for children/concessions at off-peak times (11am-4pm Monday to Friday, excluding Bank Holidays). Tickets for sessions at all other times cost £9 for adults and £7.50 for children/concessions.
Groups of four or more people will save 10% on standard prices, with a 15% discount available to groups of 11 or more people and 20% off for groups of 30 or more.
Each session starts on the hour, allowing 15 minutes for people to change in and out of their ice skates and a full 45 minutes on the ice.
For more information about Leicester's ice rink – and all the other events taking place in Leicester this Christmas – visit www.visitleicester.info