More than £800,000 invested in city children's homes
Published on Friday, December 8, 2017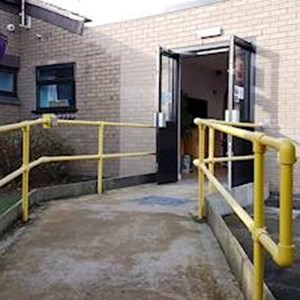 MORE than 800,000 pounds' worth of improvements are being made to children's homes across Leicester as part of a major programme of refurbishment.
The city council's five children's homes and both of its contact centres are being upgraded as part of a three-year plan to modernise the buildings and make them more accessible.
A large part of the project has also focused on making the buildings feel more welcoming for the children who visit them.
In many of the buildings, outdated lighting is also being replaced with more domestic fittings.
One of the homes, which provides respite care and short breaks for disabled children, has had more than £190,000 invested in it to widen doorways for better wheelchair access, create a new soft play area and add outdoor play equipment.
The building has also benefitted from a new extension and a replacement bathroom suite with a whirlpool bath, to help young people with complex needs and autism.
Another of the city council's children's homes has had its reception area refurbished and a new activity room added. The reception has been decorated to make it more homely-looking and less institutional.
A third home has had its garden and kitchen refurbished to support young people with learning disabilities.
In January 2018, another of the homes will have its office and reception facilities improved, which will provide extra space to install en suite facilities and refurbish the young people's living and bedroom spaces.
A further home will be renovated to meet its new remit to support older teenagers to become more independent. Improvements will include refurbishing outdated glazing, central heating, kitchen and dining facilities, and providing en suite facilities to modernised bedrooms.
At St Andrew's Contact Centre, an old garage has been demolished and replaced with a new family contact room, with improved spaces for older and disabled children and young people.
An outdated and inefficient heating system is being replaced at the contact centre in Aylestone.
Deputy city mayor for children, young people and schools Cllr Sarah Russell said: "I'm extremely pleased that we've been able to invest in these important works.
"Many of our children's homes are praised by Ofsted for the care they provide. Two of them are rated as outstanding. But having quality accommodation is a big part of this, so to improve even further and meet the needs of our young people, we need to make sure we provide the best possible facilities.
"We have a duty to provide high-quality care to the children and young people we look after as a local authority. That includes making sure our children's homes and contact centres are places where they can feel not just safe, but welcome."
Parents and carers who have visited the updated facilities at the home providing respite care have liked the improvements. One said: "It looks far more homely and there's much more space to move around."
Another added: "My daughter will like the space better as it has a proper roof now. She didn't like the noise the plastic roof made when it rained".
Work began in 2015 and will complete in 2018.
Money for the programme came from the council's capital budget, which provides funds for big infrastructure and improvement projects.
(ends)