Schoolchildren turn rubbish into art for city centre exhibition
Published on Friday, December 1, 2017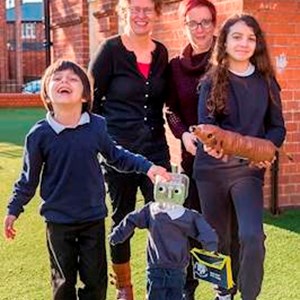 CHILDREN from a city primary school have been turning their rubbish into artwork as part of an environmentally-themed homework competition.
More than 180 pupils from Hazel Community Primary School took part in the project, which encouraged them to recycle materials from home and use them to create models and sculptures for display in the school.
The artwork is now on display as a pop-up exhibition at Leicester's Adult Education Centre, in Belvoir Street.
Winners from each school year group were chosen by the city council's environmental education co-ordinator. They received certificates and prizes including gift vouchers and stationery sets made from recycled materials.
The winning designs included a robot in school uniform, made from a pizza box and take away tins, and a dog, made from a plastic bottle and insulation tape. Artwork was brought into school after half-term and has since been on display in the school.
The aim of the project was to help children and families to think more about what they throw away, whether it could be recycled, and consider why it's important to recycle or re-use our rubbish.
It will also help the school, which already has a silver eco-school award, on its journey towards achieving a prestigious Eco-Schools Green Flag Award.
Gillian Blatherwick, head teacher at Hazel Community Primary School, said: "We were overwhelmed at how successful this project was. It was great to see so many pupils get involved. You could clearly see it had been a whole team effort from children and their families".
Deputy city mayor Cllr Adam Clarke said: "Environmentally-themed projects like this one get children thinking about how we use the resources around us, and as this project shows, that's a message that can then spread to the wider community.
"By making recycling and re-using waste 'normal' for the next generation, we'll be able to increase rates of recycling and reduce the amount of waste we send to landfill in the future."
The exhibition of Hazel pupils' artwork will open in the café at the Adult Education Centre from Friday (1 December). It will run until Tuesday 19 December.
The café is open from 9am-6.30pm Monday to Friday and from 9am-4pm on Saturdays.  
(ends)