Sustainability on the menu at schools' eco-roadshow
Published on Tuesday, December 12, 2017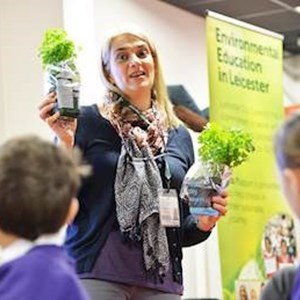 HUNDREDS of local schoolchildren have been sharing ideas about how to make their schools greener as part of the Leicester Eco-Schools Roadshow.
The month-long programme of workshops saw over 400 pupils from31 local schools get together to learn about environmental projects and share ideas to promote sustainability. 
Now in its second year, the roadshow visited six schools and worked with local partners to offer sessions on a range of sustainable issues including pollution and its impact on wildlife, growing your own food and helping reduce food and water waste, walking and cycling, and the importance of Fairtrade.
Pupils from the host schools were also given the chance to showcase their own environmental projects. These included school recycling projects, litter reduction and energy saving campaigns.
Deputy City Mayor Cllr Adam Clarke, who leads on the environment and sustainability, said: "The Eco-Schools Roadshow is helping to get hundreds of children thinking about our impact on the environment and how they can help introduce green initiatives into their school lives.
"The schools have come up with some fantastic ideas and there is a real enthusiasm for tackling the challenge of living more sustainably, which we hope will spread to families and the wider community."
Eco-Schools is a global programme that is helping to engage millions of children across 67 countries, making it the largest educational programme in the world.
In Leicester, nearly 100 schools are registered on the programme and over 60 schools have been accredited with Eco-School awards.