Youth service wins another award for innovation
Published on Monday, December 4, 2017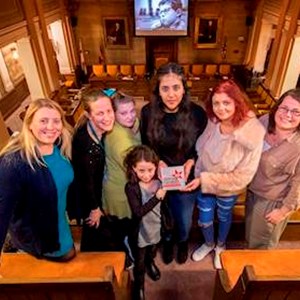 LEICESTER City Council's youth service has won another award for innovation from the British Youth Council (BYC).
In June, the service won the BYC Youth on Board Innovation Award, which celebrates new ideas that make a real difference to the way in which organisations work with young people.
Now, Leicester has followed this up by winning a BYC Youth Voice Star award for the same piece of work, a series of short films called How Will You Hear Me?
The award was celebrated at last week's full council meeting on Thursday (30 Nov), when members of the Young People's Council and Leicester's Young Advisors officially received the award from the Lord Mayor. The films were also shown at the council meeting.
Leicester's youth service worked extremely closely with young people to create How Will You Hear Me? – a training resource for professionals who work with children and young people. Its aim is to ensure young people are listened to by professionals.
Elected members of Leicester's Young People's Council were closely involved in the project, as were Leicester Young Advisors – who help local leaders and decision-makers to engage with young people.
The films see young people sharing their personal stories and talking about their experiences of being listened to – or not – by different public bodies.
For example, Ria's story talks about her experience of being defined by her health problems, and her infuriation at doctors addressing questions about her illness to her parents rather than to her.
Yash talks about being a victim of a mugging, while Reece talks about the isolation she feels being a young carer.
The films form part of a training resource pack for professionals, aiming to help ensure young people's voices are heard.
Cllr Sarah Russell, deputy city mayor responsible for children, young people and schools, said: "The fact that How Will You Hear Me? has now won two national awards for innovation shows just how groundbreaking a piece of work it is. I'm extremely proud of our youth service for coming up with these new initiatives to engage with young people and ensure that their voices are heard.
"We're also very lucky to have such passionate and committed Young Advisors and members of our Young People's Council to work alongside. Our current Young People's Council members are coming towards the end of their term of office and they've been a fantastic voice for local democracy.
"I congratulate them on this award, commend them for their work and want to thank them for all they've done to help engage young people in Leicester with important local issues."
Brahmpreet Gulati, one of the young people whose stories are featured in the films, said: "These films are already having an impact on local decision-makers and have resulted in young people's voices being heard more. We took a hard-hitting and realistic approach, looking at the lives of young people who have not been listened to, consulted or recognised by people providing services for them in the past. By sharing these stories, we hope more young people's voices will be heard in the future."
Film-maker Keith Allott from Badshoes Film, which made the films, said: "It was great to work on this project with such enthusiastic and talented young people."
Youth services staff picked up the award at a ceremony in London. Youth development worker Bez Killeen said: "This award really means a lot for us in the city, we know we push boundaries with our work for participation and to get national recognition reassures us we are doing something right.
"How Will You Hear Me? is innovative and groundbreaking because it makes ensuring the voice of the child is heard everybody's business."
Youth Voice Star Awards celebrate the breadth and diversity of local youth work across the country, and Leicester's entry faced tough competition from projects in Essex and north Lincolnshire before winning the innovation award.
(ends)