Countdown begins to City Festival
Published on Thursday, July 27, 2017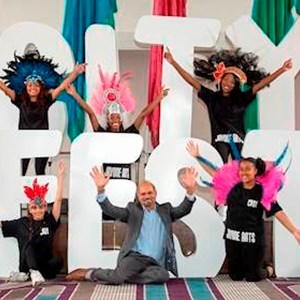 LEICESTER'S City Festival is back – and this year, there's even more free fun and entertainment to look forward to.
With much of the activity taking place in Leicester's pedestrianised streets and open spaces, the packed programme of events  – featuring more than 100 events taking place over 17 days – gets under way on Saturday 12 August.
A spectacular Cosmopolitan Carnival (2pm-9.30pm) will get the party started, with live performances linking Humberstone Gate with Jubilee Square and a dazzling finale that's set to feature music, animation and lasers.
The opening weekend continues with the return of two popular cycling events.
On Sunday 13 August, there's a chance to watch elite riders racing over the cobbles in Castle Yard in the Leicester Castle Classic (10am-12 noon), before everyone can get on their bikes to enjoy an 8km traffic-free route in this year's City Ride Leicester (12.30pm-4.30pm). 
Anyone without a bike can still enjoy some pedal power by hitching a ride on one of 70 rickshaws that will be joining the cyclists on the streets of Leicester (12.30pm-4.30pm).
There's live music on Humberstone Gate from Tuesday 15 August to Saturday 19 August as part of Night of Festivals South Asia – which celebrates the 70th anniversary of independence in India and Pakistan – while Harminder the cycle-powered elephant will join costumed performers and dancers to help create Little India in the new Market Square, Humberstone Gate and High Street on Saturday 19 August (from 11am).
Sunday 20 August sees the return of the popular Leicester Belgrave Mela Festival, which will bring the flavours of South Asia and a buzzing bazaar to the city centre.
There's a surreal theatrical experience waiting for anyone on Gallowtree Gate on 23-24 August, as The Lift lands outside Visit Leicester – and on Humberstone Gate, there's a chance to meet the mysterious Urban Astronaut (23-24 August).
Project_Vee takes juggling to a new level on Humberstone Gate (25-26 August), while Leicester's new Market Square hosts Monster Colours – a day of puzzle-solving that will challenge your coordination abilities – on Friday 25 August.
The city centre gets its own Skate Park for the Bank Holiday Weekend (25-28 August) and the streets become the stage for some Joyous Urban Mess on Saturday 26 August, as Les Vernisseurs from France bring their madcap interactive show to Leicester.
Jubilee Square hosts a weekend of festival events inspired by the creativity of refugees in Leicester, with a world music stage, kite-making workshops and delicious street food. Journeys Weekender runs from 12 noon to 6pm on 26-27 August.
Over in Abbey Park, there's a summer extravaganza featuring Alice in Wonderland-inspired activities – including Queen of Hearts' flamingo croquet and hide & seek with the White Rabbit – and lots of family-friendly entertainment. The fun runs from 12 noon to 4pm on Sunday 27 August.
It's all about historical fun on Monday 28 August, as Jubilee Square hosts the popular Old Town Festival (11am-5pm). Jugglers, jesters and brave knights will provide the entertainment in the square, while the neighbouring Guildhall hosts 'Gloriana!' – a medieval family day with music, games, and maypole dancing (11am-3pm).
There will be more live music on Humberstone Gate on Sunday 27 August and Monday 28 August, as some of the best local talent takes to the stage in a live acoustic marquee. Hosted by The Shed and The Soundhouse, the City Music Stage runs from 12 noon until 5pm on both days.
For the first time, the City Festival programme includes a preview of some of the best events taking place at next year's Leicester Comedy Festival.  Look out for a pop-up version of the hit show 'Comedy in the Dark' (25-28 August), the chance to dress up as your favourite Monty Python character (25 August), and the opportunity to see 'Mrs Green does Bingo!' (27 August).
The packed programme includes dozens of other free events taking place at 40 venues throughout Leicester, including guided walks, illustrated talks, exhibitions, workshops, films and sporting activities.
Cllr Piara Singh Clair, assistant city mayor for sport, leisure and culture, said: "We launched the City Festival in 2013 with a modest package of events over two days, but this year we've come up with an exciting 17-day programme that I hope will encourage people to explore, and enjoy, their city centre. 
"We'll be celebrating our communities, our culture and our heritage throughout the city centre – and we'll be introducing people to our brand new Market Square with some great outdoor events. 
"I hope that the packed programme of events will offer something for everyone  –and give everyone a reason to stay in Leicester this August."
Full details of all events taking place at the 2017 City Festival are available in a free brochure – available from Visit Leicester on Gallowtree Gate, local libraries, and city centre shops, bars, and venues – or online at www.visitleicester.info/cityfestival