Plans for major revamp of Belgrave Gate revealed
Published on Thursday, July 20, 2017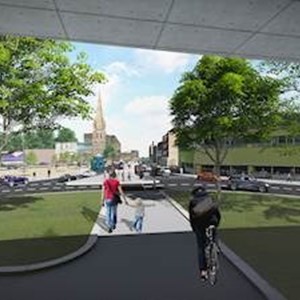 A STRETCH of road linking Leicester's Golden Mile to the city centre is set to be transformed under proposals announced by City Mayor Peter Soulsby.
The city council plans to create a safer and more attractive route for pedestrians and cyclists along a stretch of Belgrave Gate, from the new Haymarket Bus Station to Belgrave Circle.
A new off-road cycle lane will be created on both sides of Belgrave Gate, between Abbey Street and Burleys Way, and footpaths will be reconstructed in high quality materials. The road will be narrowed, with traffic lanes reduced to one in each direction. The road will be resurfaced, with bus stops and new loading bays built in.
Substantial improvements are also proposed to the Burleys Way roundabout, with a new shared footpath and cycleway running underneath the flyover, proving a more direct and safer route along Belgrave Gate.
The existing Lotus Flowers public art could be relocated to nearby Archdeacon Lane next to Charter Street, where a new bridge is due to be installed to provide an additional entrance into Abbey Park.
North of Burleys Way, a separate cycleway and footpath will be created along the central reservation, to link in with improvements made to Belgrave Circle following the removal of the flyover. This will require the removal of the existing inbound bus lane between Melton Street and St Mark's Street.
All pedestrian crossings along the route will be improved and upgraded, and roads will be resurfaced. Footpaths will be constructed in resin-bound gravel or high quality block, to match other recent city centre street improvement schemes carried out as part of the Connecting Leicester programme.
The proposed Belgrave Gate improvement scheme will cost in the region of £1.9milllion and would be largely funded with Government cash through the Local Growth Fund.
City Mayor Peter Soulsby said: "This latest phase of the Connecting Leicester programme will help create much more attractive route from the city centre out to the Abbey Park and the Golden Mile.
"It will provide a much safer route for cyclists, adding to the growing network of new cycleways in and around the city centre. We also want to make better use of the space under the Burleys Way flyover and open it up to pedestrians and cyclists.
"This is part of a much wider ambition which – over the next two to three years – will also see the areas around the soon-to-be reopened Haymarket Theatre and the Clock Tower completely revamped."
People can find out more about the proposed improvements to Belgrave Gate when the plans go on display next week. Officers will be on hand to answer any questions at Haymarket Station on Wednesday 26 July, from 11am-2pm, and on Tuesday 1 August, from 4-6pm. They will also be available at Leicester College's Abbey Park campus on Thursday 27 July from midday-2pm.
The plans will be available to view at Haymarket Bus Station until August 18, and online at www.leicester.gov.uk/connectingleicester  
If the Belgrave Gate proposals are given the go-ahead, work is expected to begin in January and could take up to a year to complete.