Designs revealed for proposed new Waterside school
Published on Monday, June 19, 2017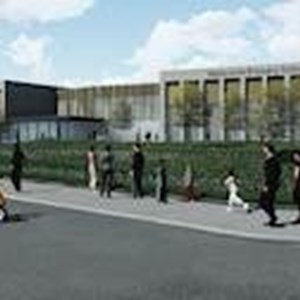 STRIKING designs for a planned new primary school in Leicester's Waterside area have been revealed by the city council.
Leicester City Council is planning to build the new five form entry Waterside Primary School on disused council-owned land off Fosse Road North.
Artist's impressions giving a first glimpse of what the proposed £13milllion school would look like have been released today.
The modern, two-storey school building would be set back from Fosse Road North, with landscaping to the front of the school helping to create a more attractive streetscape.
Infant and junior pupils would be accommodated in connecting wings, with a large outdoor area providing space for synthetic turf sports courts, an outdoor classroom and amphitheatre, gardens and wildlife area and room for outdoor play.
Materials used will reflect the predominantly brick-built buildings that surround the school site, with zinc cladding to the rear and patterned anodised aluminium brise soleil used to provide shade.
The designs have been developed by local architecture and landscape design practice Maber. The firm has previously worked with the city council on the award-winning design for the King Richard III Visitor Centre.
Maber also recently designed the stunning two-storey extension to the Grade II-listed building at Charnwood Primary School.
If plans are approved, work on the new school could begin in early 2018. It is hoped that the new school would be open in time for the 2019/20 academic year.
City Mayor Peter Soulsby said: "We have an exciting vision and opportunity to redevelop the Leicester's Waterside area as a thriving neighbourhood and a great place to live. Our ambition to include a new school as part of that vision will help ease current pressures on school places in the city and provide future capacity for a growing population in this part of the city.
"We hope to begin work on the construction of the new Waterside Primary School early in the new year, and run this in parallel to the construction of hundreds of new homes planned for the first phase of our ambitious regeneration programme."
The new Waterside Primary School is just one element an ambitious city council programme that could see over £90milllion invested in the creation of new school places to meet growing demand across the city.
The new school will provide capacity for up to 900 primary-aged pupils, creating an additional 400 pupil places on top of those currently offered at nearby Slater and Fosse primary schools.
Any changes to arrangements at the nearby schools will be subject to further consultation.
Around £13million of funding from the council's Basic Need allocation has been earmarked for the project. This cash is provided by the Department for Education to enable councils to meet their statutory obligation to ensure that every child has access to a school place.
Cllr Sarah Russell, assistant city mayor for children, young people and schools, said: "There is no doubt that Leicester faces a significant challenge to meet the growing demand for school places.
"The opportunity to build a new school in the city is a really exciting, and just one part of our ambitious plans for the biggest-ever expansion of Leicester's schools."
The plans also include proposals to introduce a new pedestrian crossing on Fosse Road North, along with other measures to prevent dangerous school-run parking and help ensure families can walk and cycle to the new school safely.
A full planning application is in the process of being submitted.