Council to buy building to make space for street revamp
Published on Monday, November 27, 2017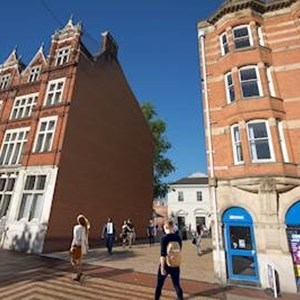 PLANS to acquire two properties in Leicester's Horsefair Street have been announced by the city council.
Leicester City Council will buy the adjoining properties at 11 and 15 Horsefair Street for the sum of £1.1milllion.
The property at 15 Horsefair Street – which is currently vacant – will be demolished to make way for a more open and inviting pedestrian link between Town Hall Square and Leicester Market.
The existing narrow, covered alley will be replaced by a wider and more attractive new walkway, finished in high-quality materials to match those used on the recently completed new Market Square. This will re-establish a visual link between the historic Town Hall Square and the Grade II*-listed Corn Exchange. It will also help address issues of anti-social behaviour in the area.
Overall costs for building demolition and creation of the new footway will be in the region of £500,000.
The second building, at 11 Horsefair Street, will be kept as an investment property and continue to be leased as a retail unit. The two properties were offered for sale as a package.
City Mayor Peter Soulsby said: "This purchase presents us with an exciting opportunity to make some much-needed improvements to this part of the city centre.
"As it stands, the existing alley through to Leicester Market is cramped, uninviting and attracts anti-social behaviour. The building itself detracts from the stunning architecture around it.
"By demolishing it, we can create a much wider and more welcoming link between Town Hall Square and Leicester Market. This will build on the ambitious improvements already well underway at the market and help give the wider area an extra boost.
"The second property represents a good investment opportunity for the council and will continue to be cherished as an important part of the historic street scene.
"It is vital that we invest in improving our city centre to help ensure that Leicester continues to grow and thrive as a great place to live, work and invest in and as a really attractive destination for visitors."
The purchase of the properties and proposed improvement scheme will be funded with cash set aside for the Leicester Economic Action Plan and prudential borrowing through the council's Investment Property Fund.