New look for entrance to Haymarket Theatre
Published on Friday, November 24, 2017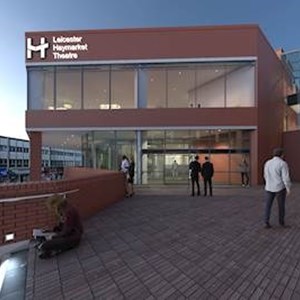 A BRAND new entrance will be welcoming visitors to the old Haymarket Theatre when the building reopens to the public next year.
Plans for the remodelled lobby area show a new entrance to the left of the theatre steps, with glazed walls allowing light to flood in to the space.
Created under the existing overhanging roof, the bigger, brighter entrance will be adjacent to the box office, a ticket sales counter and a cloakroom, which will all be relocated as part of the programme of works to modernise the 1970s theatre.
The existing theatre entrance will be blocked – and an external corridor that runs along the front of the building will be enclosed so that it can only be accessed from within the building in future.
Work to create the new entrance is part of the proposed £600,000 package of additional works outlined by City Mayor Peter Soulsby in September.
"When we started work on this project, our intention was simply to refresh the fixtures and fittings in the 1970s theatre, without carrying out a full refurbishment of the building," he said.
"But much has changed since then, with news that Travelodge will be moving into the Haymarket centre and a recognition that the theatre could become a national hub for the growing eSports market.
"These wider regeneration opportunities have convinced me that we need to upgrade our plans for the theatre's refurbishment and provide the high quality facilities that people expect to find in a modern venue."
As well as funding a new entrance, the additional investment will upgrade the specification for internal works, with improved door finishes in the public areas, high quality toilet facilities, better heating provision in the back of house areas, and enhanced decoration.
The improvements will be complemented by works to revamp the steps and piazza area outside the theatre – works that are due to be carried out by the owner of the Haymarket centre.
A planning application for the alterations to the theatre entrance has been submitted and a decision is expected in the new year.
The additional works – funded through the city council's Economic Action Plan – will extend the timescales for the project, with the venue now due to re-open to the public in March 2018.