Poster campaign to highlight issue of domestic violence
Published on Tuesday, November 21, 2017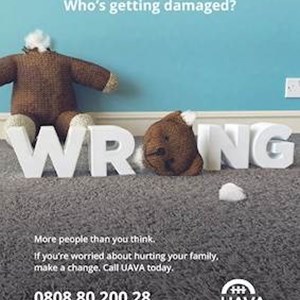 A HIGH-PROFILE campaign has been launched to reach more people who are affected by domestic and sexual violence and abuse.
The campaign, called 'Wrong', marks a month of activities and events to highlight domestic abuse, coinciding with the International Day for the Elimination of Violence against Women on 25 November.
For the first time in Leicester, Leicestershire and Rutland, the campaign will speak directly to the perpetrators of domestic violence. It will remind them that they are responsible for their behaviour; that their behaviour is causing damage, and they have options if they are willing to change.
A poster, featuring a damaged teddy bear, urges perpetrators who are worried about hurting their families to make a change and call a helpline today.
By calling the helpline, people who are worried about their behaviour can get confidential information and advice about services to help them.
UAVA – United Against Violence and Abuse – is the local support service for people affected by domestic and sexual violence and abuse. In the last year, 136 perpetrators accessed the service to change their abusive behaviour, including 19 men and women who referred themselves.
As well as targeting perpetrators, the campaign promotes the UAVA service to anyone in Leicester, Leicestershire and Rutland who is affected by domestic and sexual violence. They enforce the message that domestic and sexual violence is wrong, whatever the circumstances.
Posters, now on display in the city centre and inside park and ride buses, will be seen by many people who will be coming into the city for Christmas shopping and events. Posters will also be in GP surgeries, council venues and community centres around the city and county.
As well as targeting perpetrators, the campaign is aimed at encouraging people who could find it harder to speak up about what they might be experiencing. This includes women over the age of 55, and Asian/Asian British people. Statistically, the over-55s have lower levels of reporting of domestic violence and abuse than the rest of the population, and also suffer the longest before reporting it. Asian women are the second most underrepresented group.
The UAVA helpline is on 0808 80 200 28. More information is also available on the website, www.uava.org.uk
Follow the campaign on Twitter @_Howmanytimes and use the hashtag #callUAVA.
(ends)