Protect yourself against flu this winter
Published on Friday, November 10, 2017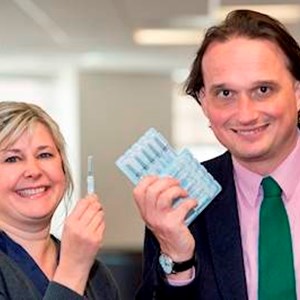 PEOPLE are being urged to protect themselves against flu this winter.
Flu is not just a bad cold – it can be extremely serious, even if you're already fit and healthy when you catch it. For those who already have a long-term health condition, are pregnant or are over 65, it can be even more dangerous as you are more at risk of complications such as bronchitis or pneumonia. Children are also more at risk.
This year, Australia and New Zealand have already experienced their worst flu outbreak in 10 years.
Deputy city mayor Cllr Adam Clarke, who leads on health, said: "One in three people are entitled to a free flu vaccine, but we know that last year in Leicester, Leicestershire and Rutland, 30 per cent of eligible patients did not take up the offer of a flu jab.
"It's very important that people protect themselves against flu to reduce the risk of serious illness."
The NHS has also issued a series of 'mythbusters' relating to the flu jab. These include pointing out that it's not a risk to get a flu jab when you're pregnant, and that you can't get ill from the vaccine.
Children under the age of five are more likely to be admitted to hospital with flu or spread it to others, so it's important that two, three and four-year-olds have the nasal spray vaccine. The vaccine is offered free in primary schools.
Ruth Tennant, director of public health at Leicester City Council, added: "Given the high levels of flu that we're seeing this year in Australia and New Zealand, it's more important than ever for people to make sure they and their families are protected.
"If you're eligible for a free vaccination, your GP will have contacted you to offer you an appointment and it's not too late to take this up. We're halfway through our schools vaccination programme so we'd encourage parents and carers who've had letters from their schools to take up this opportunity to get their children vaccinated. This will protect children against flu but also stops flu spreading to family members."
People who are not eligible for the free NHS vaccine can book an appointment with many local pharmacies for a flu jab, typically costing around £9-£15. Good hygiene and handwashing is also a simple but very effective way to stop the flu virus spreading.
(ends)