New mural illustrates wildlife of Aylestone Meadows
Published on Tuesday, October 24, 2017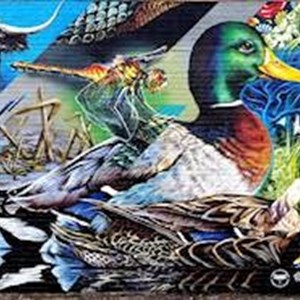 A STRIKING new mural has been created marking one of the entrance points into the city's largest nature reserve.
The mural, on Aylestone Road, marks the entrance to Aylestone Meadows close to Mill Lock. It features some of the diverse animal life that can be seen on the meadows, such as longhorn cattle, hares, mallards and dragonflies. Local landmark the Pack Horse Bridge is also depicted.
The mural was designed and created by local artist Leigh Drummond, aka Mono, working with artists' collective Graffwerk.
The project was delivered by the Aylestone Meadows Appreciation Society (AMAS) with support from Leicester City Council.
Cllr Adam Clarke, deputy city mayor for environment and a ward councillor in Aylestone, said: "I was pleased to support funding of £2,000 towards this project, through the ward community fund.
"Aylestone Meadows is both a haven for wildlife and an area of great heritage. We're lucky to have a committed team of volunteers in AMAS who are always looking for ways to promote this asset to our city to new users.
"This artwork showcases the work of a talented local street artist and illustrates what the meadows has to offer. It's a new landmark for the area and it demonstrates the pride and community spirit of local people."
Anne Hayto, chair of AMAS said: "This wonderful mural is the result of an idea by members of Aylestone Meadows Appreciation Society, with the aid of ward funding. With AMAS working in partnership with Cllr Clarke and the artist we have achieved something really special and lasting.
"The fabulous artwork captures the essence of Aylestone Meadows and all the things we love about the area are there, from cows to dragonflies. We hope that people who see it as they pass and who maybe don't know what they have been missing, will be encouraged to go and discover Aylestone Meadows for themselves."
Izzy Hoskins from Graffwerk artists' collective said: "Graffwerk has enjoyed working alongside everyone on this project. Mono is a great artist and this wall is a fantastic example of his work."
AMAS's website is at http://aylestonemeadows.org.uk/
Find out more about Leicester's parks and open spaces at www.leicester.gov.uk/parks
(ends)