Parks staff win award for volunteering scheme
Published on Friday, October 27, 2017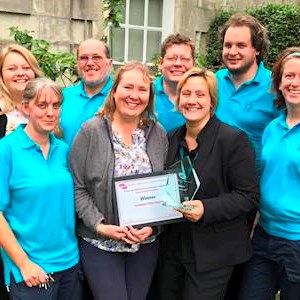 STAFF working in Leicester City Council's parks department have won an award for their work to get more people in the city volunteering for environmental projects.
The city council won the Environmental Services Innovation Award for green space innovation at a ceremony hosted by APSE, the Association for Public Service Excellence.
APSE hosts the awards each year, but this is the first time it has handed out an award for green space innovation. The awards' aim is to celebrate "outstanding local councils that use innovative ideas and solutions to tackle the current challenges facing their frontline services."
Leicester's parks department recently created a community development team to support volunteering on environmental projects across the city's parks, riverside and green spaces.
They launched Leicester Environmental Volunteers, offering more than 12 individual projects and an average of 25 different volunteering opportunities a month for people to get involved with, covering a variety of environmental, conservation and horticultural activities.
As a result, last year they helped 5,930 volunteers to donate more than 58,000 hours of their time.
Opportunities to get involved include going out with the council's Green Lifeboat to pick up river litter, creating wheelchair-friendly woodchip paths, improving access to woodland or helping to manage the crayfish population in our waterways.
Deputy city mayor Cllr Piara Singh Clair, who leads on culture, leisure and sport, said: "It's fantastic news that we have won this award for the wide variety of volunteering opportunities we are able to offer local people.
"It's not easy to co-ordinate something on this scale, and I know how hard staff work to make this happen, so this award is very well deserved.
"But none of this would be possible without the dedication and enthusiasm of all the volunteers who do their bit to make Leicester a place we can take pride in. They have our huge thanks for making such a difference to the local environment."
Members of the parks department were presented with a certificate and trophy to mark the award.
If you would like to know more about the volunteering opportunities available, visit www.leicester.gov.uk/parks-volunteering
(ends)