Council begins next steps for new Waterside school
Published on Friday, September 15, 2017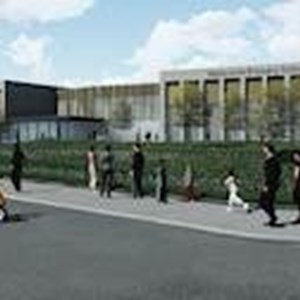 PLANS for a new school in Leicester's Waterside area are set to move forward, with a neighbouring school site earmarked for conversion into an early years centre.
Leicester City Council wants to build the new five form entry Waterside Primary School on disused council-owned land off Fosse Road North.
It is proposed that Waterside Primary School will provide capacity for up to 900 primary-aged pupils. This will create an additional 400 pupil places on top of those currently offered at nearby Slater and Fosse primary schools, which will be brought together in the new school.
The modern, two-storey school building will be set back from Fosse Road North, with landscaping to the front of the school helping to create a more attractive street scene.
Infant and junior pupils will be accommodated in connecting wings, with a large outdoor area providing space for synthetic turf sports courts, play areas, gardens and a wildlife area, along with an outdoor classroom and amphitheatre.
Planning permission for the new school was awarded at a meeting of the city's planning committee on 30 August 2017, and site clearance and other enabling works work will begin in the coming weeks.
An application has also been made to Natural England for a licence to close existing badger setts on the new school site.
The city council will now be seeking to award the construction contract – through a competitive tendering exercise – with a view to work starting on site by May 2018. It is hoped the new school will be open in time for the 2019/20 academic year.
Plans will also be developed for the refurbishment of the existing Fosse Primary School site, which will provide extended early years provision and the foundation stage for Waterside Primary School.
Although both Fosse and Slater primary schools will amalgamate into the new Waterside Primary School, the legal framework governing school organization will require one school to close while the other expands. A statutory consultation will begin in October to determine this formal arrangement. This is expected to take around six months.
The new Waterside Primary School is expected to cost around £13milllion, and will be funded through the council's Basic Need allocation. This is cash provided by the Department for Education to help councils meet their statutory obligation to ensure that every child has access to a school place.
A first tranche of funding – amounting to about £1.9milllion – has been announced to move the project forward to a point at which a construction contract could be awarded.
Cllr Sarah Russell, assistant city mayor for children, young people and schools, said: "The opportunity to build a new school in the city is really exciting and will help provide a long-term solution to the growing demand for primary school places in this part of the city.
"It's just one part of our ambitious plans for the biggest-ever expansion of Leicester's schools. This could see over £90milllion invested in creating new school places to meet growing demand across the city."
The council is leading a major programme of work to regenerate the Waterside area of the city as a thriving neighbourhood and a great place to live.
A first phase will deliver over 300 new homes and 5,500sqm of office space, along with new parks and green space, and bring an anticipated £45milllion of private investment into the area.
The Leicester and Leicester Enterprise Partnership also successfully bid for £20milllion from the Government's Local Growth Fund to support the major regeneration project.
City Mayor Peter Soulsby said: "Waterside is a tremendous opportunity for the city.
"We want to transform this long-neglected area of the city with hundreds of new homes, space for businesses to flourish and excellent access to the city's beautiful riverside.
"Our ambition to build a new school will help ease existing pressure on school places in the city and ensure that there is capacity to meet future demand as this part of the city grows."
Work on the first phase of the Waterside regeneration project is expected to begin towards the end of 2017, and will run in parallel to the construction of the new school.