Have a say on plans to revamp Clock Tower area
Published on Friday, September 8, 2017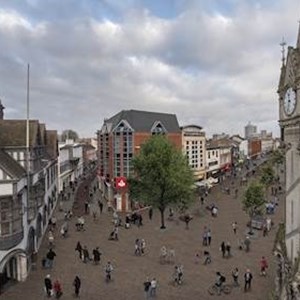 PEOPLE are being invited to give their views on proposals that could see the area around Leicester's Clock Tower transformed.
Leicester City Council is proposing a major revamp of Belgrave Gate/Haymarket and Church Gate which would see the popular shopping streets reconstructed in high quality materials, similar to those used on nearby Silver Street and Guildhall Lane.
The proposed scheme would also see traffic removed from the two streets from 11am until 5am each day, in line with the rest of the city centre pedestrian zone.
To pave the way for the streets' pedestrianisation, a short stretch of new road would be created, linking Belgrave Gate and Mansfield Street. This would provide a quicker, safer and more direct route out of the city centre for buses leaving the Haymarket bus station, helping to improve bus journey times.
The new link road – for buses and taxis only – would remove the need for buses to use Haymarket and Church Gate. Along with improvements to Sandacre Street, it would also form a new, direct pedestrian route between Haymarket bus station and St Margaret's bus station.
Bus stops in the Clock Tower area would be relocated to Haymarket bus station and the new link road. Taxis would pick up and drop off near the steps to the Haymarket Theatre.
Subject to acquisition of the required land, which is still under negotiation, work on the new link road could get underway in April 2018, with work to pedestrianise Haymarket and Church Gate potentially beginning later that summer. The entire project is expected to take around a year to complete.
Work to create the new bus link road will be supported by the Government's Local Growth Fund.
The major scheme is part of the wider Connecting Leicester project, which is improving routes through the city centre for pedestrians while making it more attractive to investors and developers.
City Mayor Peter Soulsby said: "This is a high profile part of our city centre and it is vital that we continue to invest in it. We're looking at making some ambitious changes and improvements which will help create a much more attractive, and safer, environment for shoppers and other visitors in the area around the Clock Tower.
"The work to Mansfield Street will help improve services from the new Haymarket bus station and free up space to allow us to upgrade the environment on Belgrave Gate and Church Gate.  We want to give developers the confidence to invest in the shops and businesses in this area and help these popular shopping streets to thrive."
People can find out more about the proposed improvements when the plans go on display from next week. Members of the project team will be available to answer any questions at the following events next week:
Haymarket bus station, Tuesday (12 Sep) from 8-10am, and 4.30-6pm

Haymarket Shopping Centre, Wednesday (13 Sep) from 11am-3pm

Highcross (close to Church Gate entrance), Thursday (14 Sep) from 8-10am, midday-2pm and 4-6pm
The plans will then be on display at Haymarket bus station until 2nd October and will also be available to view on the council's website at www.leicester.gov.uk/connectingleicester
People can email their comments on the proposals to transportstrategy@leicester.gov.uk