New scheme gives boost to city's bees and butterflies
Published on Friday, September 22, 2017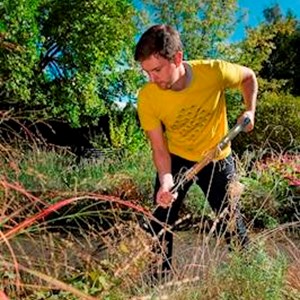 BEES and butterflies will soon be benefiting from new flower-rich areas in Leicester, thanks to a new project that aims to create habitats that will attract and support pollinators in the city.
Urban Buzz has already created 450 buzzing hotspots in Birmingham, Cardiff, Plymouth and York, and now the project – backed by environmental charity Buglife and supported by Leicester City Council – has arrived in Leicester.
Over the next 20 months, work to identify the best places for new wildflower meadows and bee banks will be carried out, before intensive seed-sowing creates lush, vibrant flower-rich areas and other vital habitats for pollinators.
Project officer Nick Packham – Buglife's Urban Buzz officer in Leicester – said: "Thanks to a generous grant of over £1million for the national project from Biffa Award, funding from other sponsors, and with local support from the city council, we are now able to bring Urban Buzz to Leicester.
"It's exciting to be launching the project in a new city, building on the success we've had in other cities, and I can't wait to get stuck into creating wildflower meadows and other habitats in Leicester.
"Today the urban environment provides one of the mainstays for our pollinators, but increased concreting over of garden and brownfield space is putting increasing strains on species survival. Urban Buzz will help redress the balance in favour of our pollinating friends, who freely contribute £0.6 billion per annum to the UK farming industry."
Assistant city mayor for the environment Cllr Adam Clarke said: "Simple changes to land management can help provide food and shelter for the butterflies, bees and other pollinators that play such a vital role in our ecosystem.

"It's important that we create and protect habitats that pollinators rely on. It's equally important we create and manage spaces that are pleasant for people too. Wildflower meadows are incredibly popular with the public so I'm doubly delighted Leicester is involved in the Urban Buzz project."
Leicester's Urban Buzz project was formally launched in Evington Park today (22 September). Consultation with residents and local experts about the best places for new flower-rich areas will now get under way.
Urban Buzz is transforming habitats for bees, butterflies and pollinators in eight cities across the UK.
Birmingham, Bristol, Cardiff, Ipswich, Leeds, Plymouth and York are the other cities taking part in the programme.