Find out what's on this summer
Published on Monday, April 30, 2018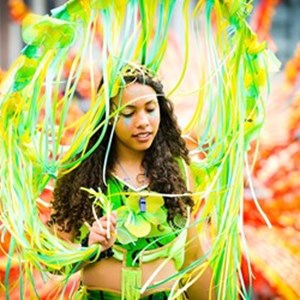 It's time to get out and about and enjoy the sun. But there's no need to leave Leicester for summer fun, with so much going on right here in our great city.
Cycle in the heart of Leicester at the Ride Leicester Festival taking place between 11 to 26 August. This year's events includes, the Classic Classic, Let's Ride, Green Bicycle Mystery Weekend and Open Streets.
City Festival celebrates everything we love about Leicester – right in the heart of the city. The 2018 festival takes place over ten fun-packed days from 18 to 27 August, filling the city centre with street entertainment, sports, culture, music, art, heritage and more.
The Caribbean Carnival is a mainstay of the festival calendar in Leicester, celebrating communities that have contributed so much to our city. Whether you're lining the streets of the city for the parade, or following it up to Victoria Park for the fun fair, you can't help but be amazed at the costumes, dance, colours and sense of fun the event brings. 
As well as these and other large events, Leicester is home to all kinds of craft fairs, village fetes and community events throughout the summer. Between June to September, you can enjoy live music in our parks. See the full list of bands playing at our parks. 
Our museums and galleries also host events all year round too - head to Abbey Pumping Station to stoke the engines at the Urban Steam Festival.
Visit Leicester website
The Visit Leicester website has details of all of these and much more. After a long day of festivaling, you'll probably want to find somewhere to eat in Leicester. No problem - Visit Leicester has information on all the best bars, cafes and restaurants in the city, as well as maps to make finding them as easy as possible. Restaurants are categorised by cuisine and sorted geographically, so that you're always just a click away from your nearest tasty treat. 
One of the most useful features of the Visit Leicester website is 'My Itinerary.' with this tool, you can create a personalised to-do list, encompassing absolutely everything there is to enjoy in Leicester. If you spot something you like, simply click the yellow + symbol on the page and the event, festival, attraction, bar or restaurant will automatically be added. You can customise your itinerary with notes about each item, give it a name, or create more than one for different days you're in the city. You can share it with a friend via email, or print it off so that you have a hard copy to hand. 
Social media
Of course, Visit Leicester is also across social media, on Facebook, Twitter and Instagram. Follow them now to stay up-to-date with the latest news on events in Leicester. They also run regular competitions for you to win tickets, passes or even free food.
Have fun!
With so much to do in Leicester, it can be difficult to choose. One thing's for sure, though - when summer arrives, our city comes alive.