Free family fun day for mischief makers everywhere
Published on Monday, August 13, 2018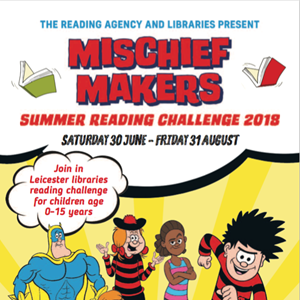 MISCHIEF-MAKERS of all ages can join in with an action-packed family funday at Curve this week.
The free fun day is part of this year's summer reading challenge from Leicester Libraries, and features the Mischief Makers – Dennis the Menace, Minnie the Minx, Bananaman and other comic-book favourites who are currently encouraging Leicester children and young people to keep up with their reading over the long summer holidays.
They've already inspired more than 5,000 city children to join the reading challenge, which rewards them for reading six books over the summer period. More than 2,000 have already got their medal and certificate for completing the scheme.
On Wednesday 15 August, from 11am until 3pm, Leicester's Curve theatre will host reading-themed performances, workshops and activities suitable for mischief-makers of all ages – including grown-ups!
Curve's associate dance artist Mel Knott will be on hand to lead a workshop celebrating the theatre's forthcoming tenth birthday by exploring who the mischief-makers were in past productions.
The theatre's front windows will be transformed by cartoon artist David 'Max' Millgate. Families will be invited to help Max bring colour to the building and guess who the famous Mischief Makers are from stories, comics and theatre productions past and present.
The Spark Arts for Children will also be sending in Agent M from the Ministry of Mischief to join in the fun. Agent M is a professor of fun and all things ridiculous, and her mission is to measure and preserve good honest mischief and mayhem amongst the families in Leicester. Agent M will arrive with an official Ministry box containing experiments, pranks, tricks and shenanigans designed to reveal the inner mischief of children (and their adults).
Assistant city mayor Cllr Kirk Master, who leads on neighbourhood services, said: "It's great news that thousands of children have already signed up to the summer reading scheme, but it's not too late to get involved, as you've got until the end of August to join the scheme.
"Our annual family fun day comes at a good time in the middle of the summer holidays, just when you might be looking for free activities to do with the kids. It's always a popular event in a fantastic venue.
"This is just part of the activities we're running in neighbourhoods over the summer. We're also holding Mischief Makers fun days and touring performances at libraries across the city, so that lots of people will get the chance to get involved in the summer reading challenge."
So far, the city council's libraries service has held 10 neighbourhood family fun days, attended by more than 1,000 children and adults. There are more to come, too – with fun days still to come at Beaumont Leys, St Matthews, the Brite Centre, Knighton, Westcotes and the Central library.
To find out more, visit leicester.gov.uk/libraries or keep up to date on social media via facebook.com/leicesterlibraries or on Twitter @leicesterlibrar
(ends)