Fun continues in City Festival
Published on Wednesday, August 22, 2018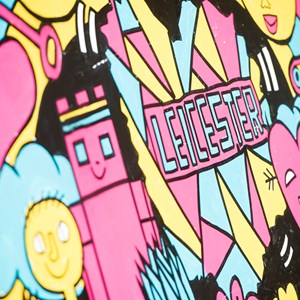 THE fun-packed programme of events for this year's City Festival continues to bring the heart of Leicester to life this week.
The festival which runs from August 17 to 27, features a huge programme of family-friendly arts, music and dance, as well as sports, heritage events and scores of activities for all ages.
City Festival is centred around Gallowtree Gate, Humberstone Gate West and the Clock Tower, bringing the festival atmosphere to the heart of the city centre.
Throughout the week, until Saturday, August 25, festival-goers can take part in Dancing in the Streets, with a chance to get involved in free taster sessions covering different styles of dance from ballroom to swing.
It takes place at New Market Square, Orton Square and Humberstone Gate West. The two-hour sessions take place daily from Monday, August 20, culminating in a full day of dance on Saturday, August 25.
City Streets, a four-day interactive street arts festival and skate park, will take place in the city centre from Wednesday, August 22 to Saturday, August 25, with a huge programme mixing daily street theatre performances and breath-taking high-wire walking and skateboarding.
The Journeys Festival International includes visual art installations, music, model-making and museum workshops to explore stories and influences from around the world, throughout the festival.
St Martin's Square, in the heart of the city's independent shopping streets, will host a Bank Holiday Sunday programme of fun with 'Shh…It's St Martin's Square Sunday' on August 26. It will include an outdoor silent disco, mouth-watering street food and activities from 12noon to 7pm.
Also new this year, Art In The City will see some of the region's best new artists and photographers exhibiting their works outside Wygston's House in Jubilee Square, on Monday, June 27.
Events come to a climax on Bank Holiday Monday, (August 27) with the Leicester Old Town Family Day at Jubilee Square, bringing together history-themed activities and workshops.
The centenary of the end of the First World War will be marked with a mock-up of a soldiers' encampment, complete with stories and accounts from the front line on 1918, and even a replica First World War tank.
Other attractions will include medieval knights and maidens, jesters, stilt walkers and children's activities throughout the square from 11am to 5pm.
City Mayor Peter Soulsby said: "Throughout the 11 days of City Festival, there are activities and events for all tastes and ages, from history and heritage to art, music and street performers of all sorts.
"It is wonderful to see so many people and organisations working with us at the city council to put on such a fantastic, diverse festival, which is an ideal way to keep families entertained during this final part of the school holidays."
Full details are available at www.visitleicester.info
(Ends)