Heritage award for staff and volunteers at city council
Published on Thursday, August 16, 2018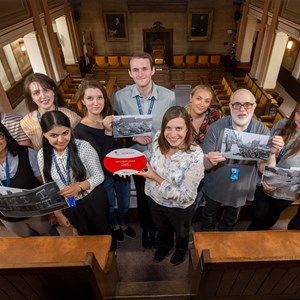 A TEAM of museum volunteers which has salvaged and archived tens of thousands of vintage photographs of Leicester has been recognised with a heritage award.
A huge catalogue of archive photographs of the city from the 1940s to the present day has been carefully assembled into a new digital collection charting the city's built heritage and social history.
A team of 63 volunteers working for Leicester City Council's arts and museums service has worked on the project over the last four years, contributing 4,700 working hours to digitise over 80,000 irreplaceable and unique pictures of the city from the 1944 to 2005.
Now the team involved has earned the Behind The Scenes Award in the Leicestershire and Rutland Heritage Awards 2018.
The huge collection of historic images came to light in 2014, when preparations were being made to vacate and demolish the council's former headquarters in New Walk Centre. Some 30,000 packets of negatives were discovered in the filing system of the council's obsolete photographic printing service.
The project, entitled 'From Salvage to Archive' has still only scratched the surface of the massive collection of images, with 85 per cent of the collection still to be converted to digital format for future generations to enjoy.
The team of volunteers was led by Leicester Arts and Museum's Service volunteer coordinator Catherine Hallsworth.
The stunning photographs, which are a priceless lifeline to the city's past, have already been put to use on heritage information panels, museum exhibitions and online at the council's Story of Leicester website.
Leicester Deputy City Mayor Cllr Piara Singh Clair said: "This is a well-deserved award for a fantastic achievement. The city has such a rich heritage captured in this vast archive of absolutely fascinating photographs, and this work ensures they are being saved for future generations.
"Thanks to the painstaking work carried by these dedicated volunteers, these images are now so much more readily accessible, and have already been used to great effect on projects around the city, such as the Haymarket bus station, and have helped bring the city's past to life once more."
Leicester's head of arts and museums, Joanna Jones, said: "This has been a wonderful project to preserve, catalogue and digitise tens of thousands of photographs from Leicester's past. We are very grateful to the volunteers and Catherine for putting in the huge number of hours involved in assembling this archive, which enables us to have a wealth of unique, historic photos at our fingertips."
(Ends)