Join the jury to solve the Green Bicycle Mystery
Published on Friday, August 17, 2018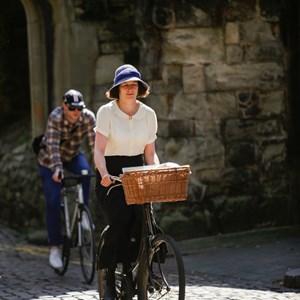 ONE of Leicestershire's most enduring mysteries will be revisited this weekend, with re-enactments, presentations and a rare visit to the city's original courtroom at Leicester Castle.
The Green Bicycle Mystery is the tale of a young Leicester millworker, Bella Wright, who was found dead beside her bicycle on a summer's evening in 1919.
On Saturday (18 August), people are invited to join 'Bella's Ride' – a free, guided 10-mile ride from Evington House, in Evington Park, at 2pm. The ride follows the route and key locations of the fateful final ride of Bella Wright, whose body was found near the village of Stoughton.
Shortly beforehand, she had been seen riding away from Gaulby with a well-dressed gentleman who rode a green bicycle. 
Following a much-publicised search, Ronald Light, an ex-army officer and owner of just such a bicycle, was arrested, tried and then acquitted of Bella's murder. Light's acquittal has been disputed ever since. 
On Sunday (19 August), cyclists are invited to re-join the group for a 'case ride' from Town Hall Square. Here, they will discover Leicester locations relevant to the case and police investigation that unfolded 100 years ago.
The ride will culminate with a rare chance to experience Leicester Castle Courtroom, location of the original trial, with legal expert Jeremy Robson.
Character actor Neil Donoghue will be present in the role of Ronald Light and riders are encouraged to play their part as jury and witnesses to decide for themselves if Light concealed the true nature of events on the day of Bella's death.
Leicester City Council is working with De Montfort University Heritage Centre, British Cycling, Leicestershire Police and relatives of Bella Wright to rediscover the story in time for the case centenary in 2019.
The events are organised as part of the city council's Ride Leicester festival 2018, a two-week celebration of all things to do with cycling, which runs until 26 August.
Event organiser Andy Salkeld said: "It's a fascinating and evolving story. New evidence is still being discovered. The characters and scenes relevant to the case at the end of the First World War can still be relived. It's a unique, immersive whodunit that is said to have inspired Agatha Christie."
Janet Hudson from British Cycling added: "These are always popular social rides – fun, friendly, inclusive and no-one left behind. The riders, as jury, are then invited to judge for themselves if Ronald Light on his green bicycle was responsible for Bella Wright's death."
To find out more and to book, see visitleicester.info or call in to the Visit Leicester shop, in Gallowtree Gate.
(ends)