Last chance to see Egyptian gallery before major revamp
Published on Thursday, August 30, 2018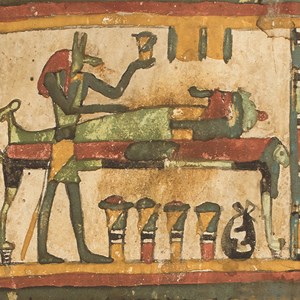 THE EGYPTIAN Gallery at Leicester's New Walk Museum will close this weekend – but it won't be long before two brand new galleries dedicated to Ancient Egypt open at the city council's flagship museum.
The current gallery has been popular with schoolchildren and families since its installation in 1994, but its low lighting, dark red walls and tired display cases now feel old and outdated.
Thanks to new investment of around £200,000 – including a grant of £145,000 from the DCMS/Wolfson Museums and Galleries Improvement Fund – the fascinating story of the Ancient Egyptians will now be brought to life in two brand new galleries on the first floor of New Walk Museum.
The bigger galleries will allow the city council to display more than 400 artefacts from its collection – nearly three times as many as are currently on display.
The first new gallery will focus on life in Ancient Egypt, from the earliest evidence of human activity until the Byzantine period in the first millennium AD. Exhibits will include children's toys, jewellery, pottery, stone tools and clothing – including a baby's tiny shirt from early Christian Egypt – that will help illustrate the thriving culture of the ancient Egyptians. Three Egyptian amulets, excavated here in Roman Leicester, will also be on display – as will a 4,000-year-old model of a boat.
The second gallery will focus on death in Ancient Egypt, providing answers to questions such as "how were bodies mummified?" and "what else was in the tomb?". Central to the display will be the four mummified bodies of Bes-en-mut, Ta-Bes, Pe-iuy and Pa-nesit-tawy, together with objects that would have typically been placed in tombs. Better interpretation, backed up by photographs and x-rays, will help explain how bodies were mummified by the Ancient Egyptians.
Stories of how the objects came to Leicester in the late 1800s and early 1900s will also be told in the new exhibition. Visitors will learn that Leicester was given hundreds of items from British excavations in Egypt, with the mummies and coffins of Bes-en-mut and Ta-Bes bequeathed to the city by John Mason Cook – the son of local travel pioneer Thomas Cook.
The new galleries will also include a large discovery desk, where up to 40 students at a time will be able to learn about the Ancient Egyptians.
"New Walk Museum is home to the most important collection of Egyptian artefacts in the whole of the East Midlands but, up until now, we've only been able to display around a third of the items in our collection," said deputy city mayor Cllr Piara Singh Clair.
"These new galleries will allow us to showcase more than 400 objects that will demonstrate that the ancient Egyptians had lives that were as fascinating as their afterlives.
"I hope that these new galleries will give visitors the opportunity to not only learn about the tombs and mummies of ancient Egypt, but also to understand more about the vibrant lives that these people led."
The current Egyptian Gallery will close at 5pm on Sunday (2 September).
The new galleries – Life and Death in Ancient Egypt – will open to the public at the start of Leicester's half-term break on Saturday 20 October.
More information about Leicester's museums is available at www.visitleicester.info
Life and Death in Ancient Egypt is supported by the DCMS/Wolfson Museums and Galleries Improvement Fund. The fund also supported the creation of new medieval galleries at Leicester's Guildhall in 2014, as well as the major refurbishment of New Walk Museum's famous dinosaur gallery back in 2011.