Last chance to view historic Wolsey angels in Leicester
Published on Friday, August 31, 2018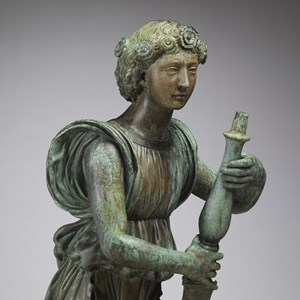 THIS weekend will be the last chance to view the historic Wolsey Angels at Leicester's New Walk Museum and Art Gallery.
The four statues – originally designed for the tomb of Cardinal Wolsey and then lost for hundreds of years – will be on display until Sunday 2 September as part of a touring exhibition from the Victoria and Albert Museum in London.
The Wolsey Angels were commissioned in 1524 from the renowned Florentine sculptor Benedetto de Rovezzano to adorn a magnificent Renaissance-style tomb that would reflect the wealth and status of Cardinal Thomas Wolsey, then chief advisor to King Henry VIII.
However, following Wolsey's fall from grace, the statues were appropriated by King Henry VIII before being moved to Windsor in 1565 during the reign of Elizabeth I. They remained there until 1645-6 but, along with other elements of the planned tomb, were sold during the English Civil War to raise funds.
For hundreds of years, the Wolsey Angels were thought to be lost.
In 1994, two of the historic statues appeared in auction and were subsequently attributed to Benedetto. The remaining pair of angels was discovered in 2008 at Harrowden Hall, a country house in Northamptonshire, where they had stood unrecognised on the gateposts.
The sculptures were saved for the nation by the V&A in 2015, following a successful campaign to help raise the £5million required to purchase, preserve and reunite them.
Alongside the four magnificent bronze statues, the exhibition explores the legacy, local links and enduring mystery of Cardinal Wolsey, who died in Leicester in 1530 and was buried in Leicester Abbey in the modern-day Abbey Park.
Deputy City Mayor Cllr Piara Singh Clair, who leads on culture, leisure and sports, said: "We've been very proud to have the Wolsey Angels on display at New Walk Museum & Art Gallery as part of the V&A touring exhibition.
"They are magnificent works in their own right, and the strong historical connections between the angels, Cardinal Wolsey and Leicester have made this a very special exhibition for the city to host."
More details are available at www.visitleicester.info