New artwork to welcome visitors to St George's Cultural Quarter
Published on Wednesday, August 22, 2018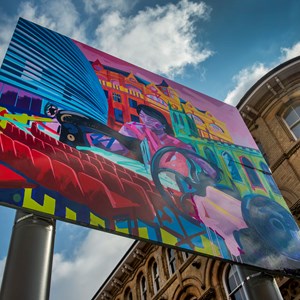 A SPECIALLY commissioned artwork is welcoming visitors to the St George's Cultural Quarter in Leicester's city centre.
The hand-painted sign is the work of local artist Tim Fowler and celebrates the architecture, heritage and creativity of the St George's Cultural Quarter.
It was chosen from 16 ideas submitted as part of a city-wide call for artists launched back in January.
Tim – who has recently returned from exhibiting his work at the Brooklyn Expo Center in New York City – won the commission after being selected from a shortlist of four by a judging panel made up of representatives from The Cultural Quarter Association, Leicester City Council, Curve and LCB Depot.
The hand-painted sign – which measures about 1.8m2 – is located on the Corner of Rutland Street and Colton Street, at the gateway to the Cultural Quarter.
Artist Tim Fowler said: "This was an exciting but challenging project. Working at this scale and using a new medium has pushed me to develop as an artist. I'm very proud of the final outcome and think it captures the Cultural Quarter and represents my work really well."
Deputy City Mayor and executive lead for the Cultural Quarter Cllr Adam Clarke was one of the judges that chose the winning artwork. He said: "Choosing a winning entry was incredibly difficult and the shortlisted entries were all of a very high quality.
"After much discussion, the panel chose Tim's design for the way it celebrates the fantastic buildings, creativity and energy of this thriving centre for art and culture.
"The final artwork will help provide a bright and warm welcome to people visiting the Cultural Quarter."