New look revealed for sexual health services
Published on Tuesday, August 7, 2018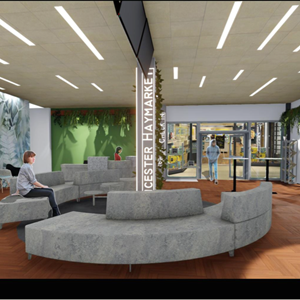 THE winning design has been revealed in a competition to help transform the new base for Leicester's sexual health services.
Sasha Bahra, an interior design student at De Montfort University, won the competition with her design featuring curved seating, parquet-style flooring and LED lighting to help people navigate around the building.
Students from DMU's architecture and interior design courses were asked to come up with designs for the waiting room, staff room, entrance glazing and entrance sign at the new clinic, which will be located in Leicester's Haymarket shopping centre.
Entries were then judged by a panel including public health staff, lecturers from De Montfort University, design consultancy Arcadis and deputy city mayor Cllr Adam Clarke, who is responsible for public health in the city.
Sasha's design will now be incorporated into plans for the new premises. Work is due to start on the refit of an empty shop unit at the Haymarket this month.
Sasha was also presented with a £500 prize from design consultancy Arcadis, in recognition of her achievement.
Contractors J Tomlinson will transform the empty shop unit into a modern, bright and welcoming base, which will meet clinical standards. This will include fitting out up to 10 consulting rooms for staff to see patients.
Plans to move the city's service from its current base in Highfields to the Haymarket centre were approved earlier this year.
Cllr Clarke said: "I was very pleased to be on the judging panel for this competition, where entries were of a very high standard. Sasha's design stood out.
"In other parts of the country, sexual health services have moved to city centre locations like this one with much success. It's important that we get the design right so that people feel this is a place they will be comfortable coming to.
"We will now set about incorporating some of Sasha's ideas into the finished designs for the new base."
Sasha said: "I decided to enter the competition as I wanted to apply what I've learned so far to a live brief. I wanted the space to feel modern, clean and inviting.
"When I found out I'd won, I was so thrilled that the judges liked my scheme and wanted to implement it. This is such an exciting achievement for me, and I can't wait to see the final outcome."
Rosemarie Fitton, associate professor in interior design at DMU, said: "It was a very challenging brief as the students had to design a space that was both open and welcoming but at the same time have privacy. The council was impressed with the designs that came forward.
"To see their design influencing a building while they are still studying is an amazing opportunity. It has given them live brief experience and is a boost for their employability. They will have got work for their portfolio which is really unique, coupled with taking on something that's outside their comfort zone."
The sexual health service – which covers Leicester, Leicestershire and Rutland – is currently based at St Peter's health centre, in Highfields. The new city centre location will be easier for people to get to, with better public transport links and parking nearby. It will also provide healthy lifestyle advice and information on-site.
The move to the city centre will also significantly reduce rental costs, resulting in long-term savings to the council's revenue budget.
£1.6m has been approved from the council's capital programme for the relocation project.
The current clinic has about 28,000 visits a year.
(ends)