New sculpture celebrates park's agricultural past
Published on Wednesday, August 8, 2018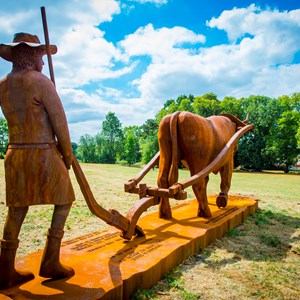 A LIFE-SIZE sculpture of a medieval farmer with his ox and plough has been installed in a Leicester park in a tribute to the land's agricultural past.
Made of corten steel, which gives the statue its distinctive rusty finish, the sculpture has been placed in Towers Park on undulating land that was farmland in years gone by.
The visible ridges and furrows in the park show that oxen ploughed the land between the 11th and 15th centuries – and the new sculpture is a reminder of the men and women who worked the land more than 500 years ago.
Deputy city mayor Cllr Piara Singh Clair said: "Since 2009, when Towers Park was formed in the grounds of the old Towers Hospital, the city council has been managing the area to create a peaceful and tranquil space for local residents.
"This new sculpture celebrates the ridges and furrows that tell the story of the land's past, while providing an important new centrepiece for Towers Park."
Created by sculptor Andrew McKeown, the Medieval Plough Team is 5.8m long and 2.5m tall and weighs more than a tonne.
Now installed close to Gipsy Lane, in the northern section of the park, the statue was unveiled by local MP Keith Vaz, Cllr Piara Singh Clair and the two ward councillors who have supported the project throughout its development, Cllr Diane Cank and Cllr Baljit Singh.
"This sculpture will help us highlight the hidden history of Northfields," said Cllr Singh.
"Cllr Cank and I hope that the Medieval Plough Team will encourage people in Troon ward to join us in celebrating the area's history and heritage – and we'd like to thank the city council's parks and landscape management staff, who have worked so hard to improve this open space for local people to enjoy."
The Medieval Plough Team cost around £25,000 and was entirely funded by Section 106 contributions from local housing developments.
It's the latest addition to the 3.5 hectare park, which already features an outdoor gym and cycle way.
Section 106 contributions will fund further improvements at Towers Park, including a new pedestrian entrance and footpath from Victoria Road East, new seating, and a new entrance for maintenance vehicles from Gipsy Lane.
Towers Park was created from the grounds of the former Towers Hospital. Opened as the 'Leicester Borough Lunatic Asylum' in 1869, its extensive grounds were used to provide residents with an opportunity to work outdoors as part of their treatment.