Record numbers feel the force at New Walk Museum
Published on Wednesday, August 22, 2018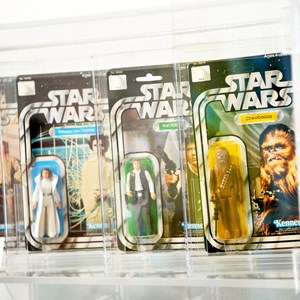 A STUNNING exhibition at Leicester's New Walk Museum that showcases one of the UK's finest and most complete collections of original Star Wars toys has attracted more visitors in its first month than the hugely popular Fearless Foxes exhibition did in the same period in 2016.
Since Saturday 21 July, when the exhibition opened its doors, nearly 30,000 people have visited May The Toys Be With You
A total of 29,967 visitors have now seen the extraordinary collection of action figures, toys and rare film posters – with more than 3,500 Star Wars fans enjoying the exhibition on the opening weekend alone.
This compares to the 29,429 fans who flocked to Fearless Foxes – the exhibition celebrating Leicester City's fairytale season – between 21 July and 19 August 2016.
Fearless Foxes went on to attract more than 100,000 visitors in its five-month run – and while May The Toys Be With You will only run for around three months, it's already proving to be another summer blockbuster.
"We are very lucky to be exhibiting this incredibly detailed and complete collection of vintage Star Wars figures and memorabilia," said deputy city mayor Cllr Piara Singh Clair.
"The owner of this extraordinary collection, Matt Fox, has worked closely with our design team at the museum to create a stunning exhibition that clearly appeals to a huge audience.
"I'm delighted with the visitor numbers for the first month, and I'm sure that many more will be heading to New Walk Museum over the coming months to see this exceptional collection for themselves."
May The Toys Be With You features around 460 objects from the personal collection of Star Wars devotee Matt Fox, including a breathtaking collection of action figures – many of which were manufactured by Palitoy in Coalville.
The exhibition is free to visit and runs at Leicester's New Walk Museum & Art Gallery until October 28.