River Monster project is set to launch
Published on Tuesday, August 21, 2018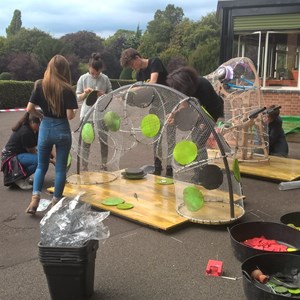 A RIVER 'monster' made out of discarded plastic will be launching onto the River Soar later this week.
The River Monster project has seen volunteers from across the city collecting waste plastic from local waterways to help create a Loch Ness-style 'Leicester Wyvern' monster that will float at various locations along the river until October.
The wire frame for the monster sculpture was created by environmental rangers from the city council's parks service, which has organised the project.
Plastics were then collected by volunteers including Leicester Environmental Volunteers, staff from Leicester City Council and Leicester City Football Club, and young people from the National Citizenship Service, Leicester College and South Leicestershire College.
The project has received funding from the Soar Catchment Partnership, which is managed by the Trent Rivers Trust. It has also received support from the Environment Agency and the University of Leicester, which is researching the impact of plastics on water quality.
Deputy city mayor Cllr Adam Clarke, who leads on environment, said: "There's been a lot of news coverage recently of just how damaging waste plastics can be, especially when they get into water courses. As well as posing a danger to wildlife, they can clog rivers and streams, heightening the risk of flooding.
"This project is a great way of highlighting the problem of plastics in our rivers by creating something positive. The River Monster sculpture will mean visitors to Leicester's riverside can appreciate the challenge of plastics in our watercourses and admire the huge creativity of local young people."
Cllr Paira Singh Clair, deputy city mayor for culture, leisure and sport, added: "As well as focusing on important environmental issues, this project will highlight the natural beauty of Leicester's riverside and Abbey Park. We already have a hugely successful volunteer programme on our parks and waterways to help tackle litter, so I'm delighted that young people are also getting involved to help us clean up these areas for everyone to enjoy."
Ruth Needham from Trent Rivers Trust said: "The Soar Catchment Partnership is delighted to support this work. The River Monster project highlights the issues of litter in waterways across Leicester in an innovative way. We want to support projects that get people thinking about what happens to plastics and litter if they are not disposed of properly. Our rivers our fragile systems that need to be cared for and protected."
The River Monster will be launched into the river at Abbey Park this Friday afternoon (24 August).
To find out more about volunteering opportunities on Leicester's parks and waterways, visit www.leicester.gov.uk/parks and click on 'contribute and get involved'.
(ends)