Traffic and bus routes affected in next phase of Vaughan Way works
Published on Thursday, August 30, 2018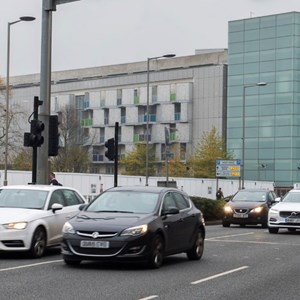 PART of Leicester's busy inner ring road will be closed overnight to traffic from next week while major resurfacing works take place.
A section of Vaughan Way, from the St Nicholas Circle slip road to Causeway Lane, is due to be resurfaced as part of a wider redevelopment scheme in the area.
The work means there will be overnight closures during two weeks in September, with each closure lasting for five nights.
From Monday, September 3, to Friday, September 7, the road will be closed to clockwise (northbound) traffic overnight from 7pm to 5am, reopening to traffic at 5am on the Saturday.
Signposted diversions will take traffic onto the ring road via Southgates, Newarke Street, Welford Road, Waterloo Way and onto St George's Way, St Matthews Way and Burleys Way during these overnight closures.
The following week – September 10 to 14 – Vaughan Way will reopen as normal, to accommodate the extra traffic expected as part of the FIFA friendly football match between England and Switzerland, taking place at the King Power Stadium on Tuesday, September 11.
Then, from Monday, September 17 to Friday, September 21, the same section of Vaughan Way will be closed to anti-clockwise (southbound) traffic overnight for five nights, between 7pm and 5am, starting on the Monday night and reopening at 5am on the morning of Saturday, September 22.
The diversion for that part of the work will see traffic using St Margaret's Way, Sanvey Gate, Frog Island, Fosse Road North and King Richards Road before rejoining the ring road at St Nicholas Circle.
Bus services will also be diverted during the night-time closures.
During the first week's closure, inbound services will go via St Nicholas Circle, Peacock Lane, Southgates, Newarke Street, Welford Place, Pocklington's Walk, Horsefair Street, Halford Street, Charles Street and Haymarket Bus Station.
During the second closure period, outbound services will run from Haymarket Bus Station along Charles Street, Rutland Street, Belvoir Street, Welford Place, Welford Road, Carlton Street, Oxford Street, Southgates and St Nicholas Circle.
Leicester City Council's head of city highways, Martin Fletcher, said: "This is a major piece of work on one of the busiest parts of the city's inner ring road, so we are making sure we carry out the work at night to lessen the disruption.
"The work will involve resurfacing a large section of the road between Causeway Lane and the slip road onto Vaughan Way from St Nicholas Place.
"The road will remain open except for the five overnight closures clockwise from September 3 to 7, and again anti-clockwise from September 17 to 21.
"We're working with businesses, bus companies and nearby residents to ensure they are aware of the scope of the works, and the likelihood of additional noise due to the nature of the work taking place.
"The whole programme is progressing well and on schedule, and all road works are due to be completed in October."
The resurfacing work is the latest phase of an extensive investment and redevelopment scheme which when complete will connect the city centre to the new Waterside developments with a new 'super crossing' across Vaughan Way itself.
Schemes are currently well underway by developers Charles Street Buildings to refurbish and bring back into commercial use the former Great Central Station, as part of a wider £50million development including two new hotels, the creation of 35,000 sq ft of new office space and a new public realm open area, on the former Stibbe site on between Great Central Street and Vaughan Way.
A separate development by the Sowden Group is also underway at the nearby Winvic site, creating a major new apartment block.
Leicester City Council is contributing £2.4million towards the highway work as part of its Connecting Leicester programme.
For more information visit www.leicester.gov.uk/vaughanway
Traffic and travel updates are available at @ATCLeicester
(Ends)