Workshop will highlight mental health benefits of park activities
Published on Monday, August 20, 2018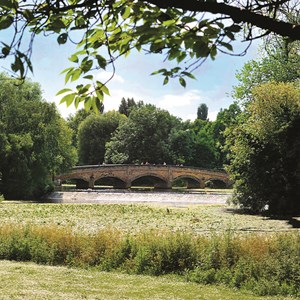 PEOPLE can find out about the benefits of getting involved in outdoor activities on Leicester's parks at a one-day workshop.
The event – which takes place at Abbey Park on Monday 3 September - will offer an informal introduction to a range of activities that can have a positive effect on mental wellbeing and fitness.
Qualified instructors will be on hand to lead sessions in tai chi and low intensity exercise using the outdoor gym equipment now available on 31 city parks. There will also be an introduction to the benefits of mindful walking, volunteering schemes and creative hobbies.
There will also be a short programme of 60-minute walks led by a mindfulness coach taking place on Abbey Park and Evington Park.
The pilot scheme has been organised by Leicester City Council's parks service.
Penny Brown, city council parks officer and event organiser, said: "Getting out and about in the city's parks and green spaces can have a really positive effect on a person's mood and state of mind.
"This workshop aims to offer a gentle introduction to how that can be combined with a range of activities and techniques that are proven to aid mental wellbeing."
Mindfulness walks will be taking place at Abbey Park on the following dates:
Tuesday 28 August (10-11am)
Wednesday 5 September (11am-12noon and 2-3pm)
Monday 10 September (10-11am and 2-3pm)
Tuesday 18 September (10-11am and 1-2pm)
Evington Park will host a walk on Thursday 20 September from 10-11am.
All events are free to attend but places must be booked in advance by emailing lev@leicester.gov.uk