Celebration of local art at 29th Open exhibition
Published on Monday, December 17, 2018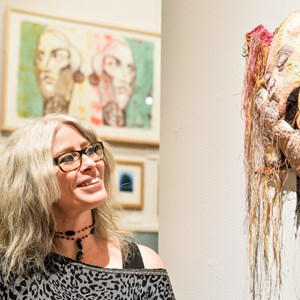 A PANEL of judges has been assessing the paintings, prints, drawings, photographs, sculptures and craft that will feature in this year's Open exhibition in Leicester – and the winners have been announced.
Amongst the prize-winners at Open 29 was Alison Carpenter-Hughes (pictured) who won the Attenborough Prize for her striking embroidery work 'Little Connie'.
In the youth category, Theodoor Constantijn, Henry Barge, Francis Griffiths and Silvia Birks picked up prizes in the ages five to ten category; Martin Leonard Williams won in the age 11 to 15 category; and Gurdev Singh, Kajal Sahins, Farah Karim Kayleigh Barlow all scooped awards in the 16 to 19 age group.
Cllr Piara Singh Clair, deputy city mayor and executive lead for leisure and culture, said: "The Leicester Open is a wonderful opportunity for talented local artists to showcase their work and attracts some really stunning work from across the region.
"This year has been no exception and the judges have been very impressed by the quality of this year's entries.
"We are incredibly grateful to all the artists who have entered this year's competition and would also like to thank our sponsors, whose support for the artists and the exhibition is invaluable."
Prizes were awarded by sponsors including Art House, City of Leicester Museums' Trust, Curve, De Montfort Hall, John E Wright, LCB Depot, Leicester Print Workshop, Seed Creativity, Soft Touch Arts and The Spark Arts for Children.
In total 300 artists are taking part in this year's Open exhibition, with more than 400 paintings, sculptures, drawings, photographs and other art and crafts. This year saw a record 900 artworks submitted for consideration.
All the exhibits are now on display at New Walk Museum and Art Gallery and admission is free. The exhibition runs until Saturday 2 February 2019.
Most work featured in the Open will be available for sale – giving members of the public the opportunity to acquire original work at an affordable price.
The Leicester Open – now in its 29th year – welcomes work from artists living or working in Leicester, Leicestershire, Rutland, Derbyshire, Lincolnshire, Nottinghamshire or Northamptonshire.