Festive treats in store at city's theatres this Christmas
Published on Friday, December 14, 2018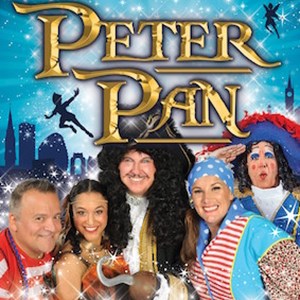 JOURNEY to Vermont for a White Christmas, enjoy swashbuckling fun on Treasure Island and fly away to Neverland for the festive season – all without leaving Leicester city centre.
The city's theatres are offering some fantastic Christmas shows from now until the New Year, with De Montfort Hall, the Haymarket Theatre, the Little Theatre and the Y Theatre all offering pantomimes, and Curve showcasing the classic festive favourite White Christmas.
At De Montfort Hall, join former Coronation Street star Kevin Kennedy, Cbeebies' Cat Sandion and X Factor winner Sam Bailey on a magical adventure to the land of the Lost Boys, Captain Hook and the ticking crocodile, in Peter Pan. The show runs until 6 January.
Irving Berlin's stylish classic White Christmas tells the story of war veterans Bob and Phil and their successful song-and-dance act, as they attempt to woo two beautiful singing sisters en route to their Christmas show at a Vermont lodge. Catch it at Curve until 13 January.
Sandi Toksvig's trademark razor-sharp wit has helped to shape the script for the world premiere of Treasure Island at the Haymarket Theatre this festive season. Brought to the stage by Sandi and her sister Jenifer, it follows Jim Hawkins' adventures on the high seas as he encounters daring sword fights, rousing sea shanties and of course Long John Silver, with a familiar face – Gary Lineker – beamed in as the ghostly apparition of Captian Flint…
The Y Theatre hosts ballet, with Beauty and the Beast, this evening (14 December), set to a stunning classical score and showcasing new choreography, sets and costumes. Then, on 22 December, the theatre presents Cinderella, a traditional pantomime with lots of laughs along the way.
And over at the Little Theatre, Mother Goose will be holding court until 6 January, promising an 'egg-citing omelette of mirth, music and mayhem' as Mother Goose is tempted into swapping an enchanted golden egg-laying goose for the promise of eternal beauty… but where can true happiness be found?
Leicester is also offering an array of other attractions for the festive season, including a spectacular real ice rink, free visits to Santa in the Square and a bird's-eye view of Leicester from the 110ft Wheel of Light. To find out more, visit christmasinleicester.co.uk.
(ends)
EVENTS IN LEICESTER CITY CENTRE
From Saturday 8 December: Santa in the Square. New Market Square
Visit Santa in his snow-covered grotto, every day until 23 December. Free admission – and free small gift for every child.
Saturday: 10am-6pm; Sunday: 10am-4pm; Monday-Friday: 11am-6pm
Christmas Ice Rink. Jubilee Square
Skate on our spectacular real ice rink, whatever the weather!
Tickets from christmasinleicester.co.uk, Visit Leicester on Gallowtree Gate and the Jubilee Square box office.
From 11am daily (closed Christmas Day and New Year's Day) until 6 January
Traditional nativity scene and Alice in Wonderland. Town Hall Square
See the story of Christmas and an animated tableau scene under the festive lights in Leicester's historic Town Hall Square
The Wheel of Light. Jubilee Square
Enjoy a bird's eye view of Leicester's Christmas lights from our 110-ft ferris wheel. From 12 noon daily (closed Christmas Day and New Year's Day) until 7 January
12 noon-8pm Mon-Thurs; 12 noon-10pm Fri-Sun.
Funfair. Humberstone Gate
Family-friendly fairground rides in the heart of the city centre until 6 January
Christmas gift ideas at Visit Leicester on Gallowtree Gate:
Book your tickets for Leicester's real ice rink. Choose from a wide range of Leicester-themed gifts, including gorgeous hand-painted baubles and Christmas cards.
Christmas in the Gardens. Cathedral Gardens
Add your own face to LightWeight – a unique interactive illuminated sphere – or just soak up the festive atmosphere in the beautifully lit gardens. Brought to you by BID Leicester and St Martins House every day until 22 December.
Daily from 5pm – 10pm
Now open: The Jägerhaus. St Peter's Square, Highcross
Enjoy the finest festive food and drink at Leicester's German-themed outside bar. Open daily from 10am-9pm until 24 December
Christmas shows in Leicester include:
6 December – 13 January: White Christmas. Curve
13 December – 6 January: Treasure Island. Leicester Haymarket Theatre
14 December – 6 January: Mother Goose. Little Theatre
15 December – 6 January: Peter Pan. De Montfort Hall
22 December – Cinderella. Y Theatre