First customers sign up for greener, cheaper energy
Published on Friday, December 28, 2018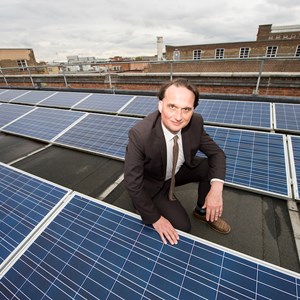 A NOT-FOR-PROFIT provider that aims to supply some of the cheapest gas and electricity on the market has signed up more than 200 customers since its launch in November.
Set up by Leicester City Council and Leicestershire County Council, Fosse Energy aims to tackle fuel poverty by offering competitively priced energy to domestic customers in Leicestershire and the wider East Midlands.
All of Fosse Energy's electricity is 100% renewable – which appeals to customers wanting to switch to a more sustainable energy supplier – and it's consistently one of the cheapest suppliers on the market.
As most people don't think about switching their energy suppliers until they get their winter fuel bills in the new year, those behind the new company are pleased with the initial response.
Deputy city mayor Cllr Adam Clarke said: "We've set up Fosse Energy to help tackle fuel poverty in Leicester and help those least able to pay their gas and electricity bills, so I'm pleased with the take-up so far.
"Not only is Fosse Energy one of the cheapest suppliers around, competing well with the big six energy companies, but as it's backed by the city and county councils, it will also be more reliable than some of the smaller energy companies.
"My advice to anyone who thinks they're paying too much for their gas and electricity – or anyone who would like to use green energy in their home – is to consider switching their supplier."
The two councils have appointed Robin Hood Energy as Fosse Energy's gas and electricity supply partner.
Wholly-owned by Nottingham City Council and consistently one of the cheapest suppliers in the East Midlands, Robin Hood Energy provides both the infrastructure and the full range of customer services to Fosse Energy.
Customers are able to choose from four tariff options – with 100% renewable electricity provided in each case.
Fosse Energy's tariffs are available to anyone living in the city, the county and the wider East Midlands, with people in Derbyshire, Nottinghamshire and Lincolnshire amongst the first to sign up.
Councillor Byron Rhodes, Leicestershire County Council deputy leader, said: "One of our top priorities is to improve the quality of life for people living in Leicester and Leicestershire. Fosse Energy is contributing to that by offering low-cost tariffs.
"We want to ensure people in our communities can easily heat their homes using a sustainable source that's affordable."
In the new year, the city council will start installing Fosse Energy Smart pre-payment meters into council houses when they become vacant, so that new tenants moving in will be on the best available pre-payment tariff and will also be able to see at a glance how much energy they are consuming.
Anyone who hasn't switched their energy supplier in the last two years is likely to save money by switching to Fosse Energy, or an alternative provider.
Full details of Fosse Energy's tariffs can be found online at www.fosseenergy.co.uk